MCA has introduced new E-form INC-22A [Rule 25A of the Companies (Incorporation) Rules, 2014] for tagging and verification of registered offices of the companies vide Companies (Incorporation) Amendment Rules, 2019
Applicability: Every Company incorporated on or before 31st December 2017 is required to comply by the above form.
Due Date: On or before 25th April 2019 (One time).
Companies barred from filing Form INC-22A:
Companies whose due Financial Statements or due Annual return or both has not been filed, will not be able to file ACTIVE form (except such company is under management dispute and the same has been recorded with the registrar).
Accordingly, such above companies whose compliance are pending to be updated with MCA shall not be able to file the ACTIVE form.
Companies not required to file Form INC-22A:
Companies such as mentioned below, are exempt from complying by this ACTIVE Form:
Consequences of Late / Non-Filing of Form INC-22A:
Documents & Information Essential for filing Form INC-22A: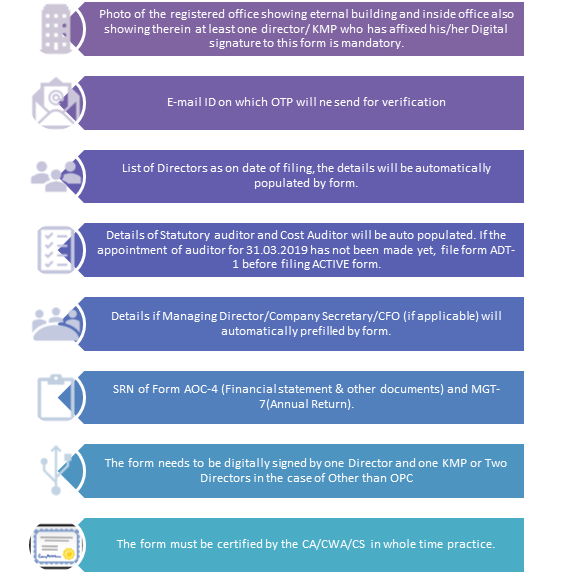 DISCLAIMER: The analysis given is strictly the view of the author. The contents of this article are solely for informational purpose. It does not constitute professional advice or recommendation of the author. The author is not responsible for any loss or damage of any kind arising out of any information in this article.
 (The author can be reached at [email protected])