Due to unprecedented Covid-19 pandemic, several companies are struggling to raise finance and listed companies are not an exception. For this SEBI offers various relaxations for rights issues which can help listed companies to quickly raise funds to meet these requirements.
Rights issue can be of different types and the company may choose any one or combination of them to suit their requirements while offering an option to all its shareholders:-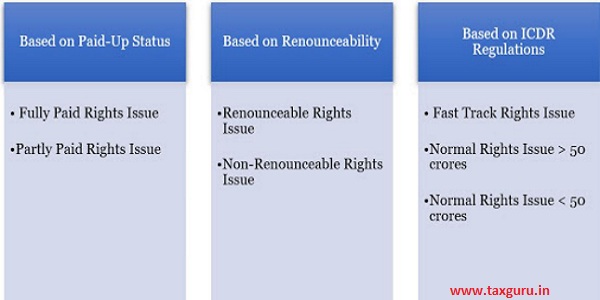 Key Process outline & Basis of Allotment
The companies can opt for 'Fast Track Rights Issue' of more than Rs. 50 crores if the conditions laid down in Regulation 99 of SEBI ICDR Regulations are met and, in such cases, SEBI has offered multiple relaxations. Otherwise, following standard process must be followed by the company for the rights issue:
Equity Shares will be allotted to eligible shareholders in a pre-determined sequential hierarchy in the following manner:
Normal rights issue of more than Rs. 50 crores may usually take up to 6 months for completion. However, in case of 'Fast-Track Rights Issue' or issue having size less than Rs. 50 crores, the process can be completed in a span of around 3 months.
Right Entitlements & Options to Shareholders
Right Entitlements (Res) are offered to shareholders on pro-rata basis in proportion with their existing equity shares held as on record date.  If any shareholder is holding shares in physical form, then he will have to provide details of his demat account for getting REs.
REs is issued in dematerialized form and have separate ISIN, however, they can be traded in online as well as offline mode. Separate scrip code is issued by stock exchanges for trading of REs and while its opening price is decided by the exchanges, subsequently it is determined by the market dynamics.
Eligible shareholders can exercise any of the following options as per their discretion during rights issue:-
Apply for their rights fully as per their REs.
Apply for their rights fully as per their REs and also apply for excess rights shares.
Apply for their rights partly as per their REs and renounce balance REs.
Apply for their rights partly as per their REs but don't renounce balance REs.
Renounce their REs fully.
Neither apply for rights shares nor renounce REs.
Advantages of Rights Issue
Recent Relaxation by SEBI
Filing of Letter of Offer to SEBI is not required for rights issue upto issue size of Rs. 50 crores which was earlier limited to Rs. 10 crores only.
Waiver of compulsory 90% minimum subscription criteria, subject to conditions.
Conditional relaxation to companies for 'Fast-Track Rights Issue' in case of pending show-cause notices provided disclosure is made about potential adverse impact
Truncated disclosures by restricting financial statements for last year instead of 3 years.