Tax Bar Association, Jodhpur has written a letter to Union Finance Minister, Smt. Nirmala Sitharaman  and Request for Extension of due date for filing of Income-tax returns from 31st July, 2019 to 30th Sept 2019. Extension is requested in view of enormous delay on part of department to provide IT forms preparation software, Dynamic amendment of Return Preparation Utility, TDS details and instructions for filing ITRs. Text of the Letter is as follows:-

Date: 18/07/2019
To,
1) Smt. Nirmala Sitharaman
Hon'ble Union Minister of Finance & Corporate Affairs
Government of India, North Block,
New Delhi-110001
2) The Chairman 
The Central Board of Direct Taxes
3) Prime Minister Office New Delhi
Hon,ble Madam, 
Greetings of the Day!
Sub.: Request for Extension of due date for filing of Income-tax returns from 31.July.2019 to 30.Sept.2019,
Tax Bar Association, Jodhpur hereby takes the privilege to address the concern of the members, being Chartered Accountants, Advocates and Tax Practitioners, practicing in the area of indirect taxation which are of utmost importance and need to be addressed by your good office on utmost priority.
There is sufficient cause and need for extension of last date of filing Income tax Returns for a reasonable period not less than 30th September 2019
Due to the following reasons a case is made out for extension of above date.
1. Return forms (in pdf form) for assessment year 2019- 20 were released in first week of April, 2019 but return filing software were made available for different forms on different dates upto June, 2019. In fact Return Preparation Software for ITR-6 and ITR-7 not yet made available.
2. Similarly, instructions for filling up ITR forms were released in a staggered manner on different dates. Instructions for filling up ITR-7 were released just two—three days back. Without following instructions a return cannot be filed correctly.
3. Further, Return Filing Utility provided on e filing site is continuously being changed. Utility for filing ITR-2 and ITR-3 just changed on 12.07.2019. [ Screenshot attached]
4. Due date for filing TDS return in respect of salary payments was extended upto 30.06.2019 and due date for issue of form no 16 by tax deductor was extended upto 10.07.2019 and in many cases form no 16 and form no 26AS is not yet updated. As you are aware filing ITRs without matching with 26AS results into defective notice from the CPC. So matching is a necessity.
5. Pre-filled XML also just made available on 11.07.2019 (Screenshot attached).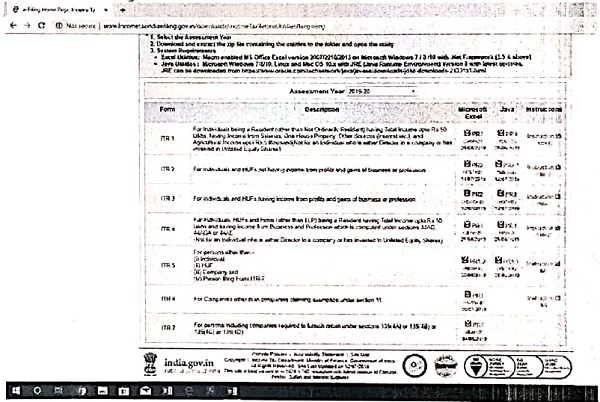 6. Just four-five days back Return Preparation Software MIS updated and a Schedule 112A was added. This schedule requires voluminous information regarding shares and mutual funds sold during the year 2018-19 that too ISM wise (i.e. details of every share sold is required). This schedule requires information regarding lair value as on 3 1.01.2018 which is a herculean task.
7. As per law facility Ibr filing 1TR be ready on I st day of April of the assessment year so that asscssees get sufficient time to collect information desired in IT forms and file it properly.
Since this year there is enormous delay on part of department to provide IT forms preparation software, Dynamic amendment of Return Preparation Utility, TDS details and instructions for filing ITRs a case is made out for extension of due date.
Therefore we request an extension of at least two months of Due Date for filing ITR to 30.09.2019.
Kindly look into above at the earliest and announce the extension immediately.
Continuing Suggestion:
1) Time and again, citizens and various forums of the country have been requesting that all relevant compliances and the procedures including the forms shall be made available to the concerned class well before start of the financial year so that necessary data can be built in the desired format and purpose. Its time and again that Government bodies overlook this aspect and the 'Ease of Doing Business' objective propagated by the Government becomes a hypocrite punch line. Each day a new amendment / updation not only in Income tax law but various other commercial laws makes the life tough and the small businesses are into more of Government business of compliances rather than their actual business. Even various High Courts have advised the Government in this regard while extending last dates through writs in the matters of Income tax audits, etc.
Tax Bar Association is of the belief that in a democratic country, the People of the country are the supreme authority and it is confident that the Government will not suppress the concerns of its People. We understand that the Govt. is well aware of the above facts and will definitely consider the above representation of date extension.
We would be thankful if your goodself judiciously extend the date well in advance which will keep the members relieved from last minute unwanted stress and would be effective and meaningful.
Yours Faithfully,
A Definite Partner in Nation Building
Tax Bar Association, Jodhpur
CA. Vishnu Prakash Daga
President
CA. Manoj Gupta
Joint Secretary & Co-ordinator
CA. Raj Bothra
Secretary
Download Representation of Tax Bar Association, Jodhpur
List of the other recent Representation