Each year you can always be sure of two things: tax season and upgraded software. The latter is true for a tool we've covered before: Able2Extract Professional. This PDF tool is ideal for both corporate and individual needs.
Last year, we honed in on its PDF signatures feature and how to sign PDF documents. While we singled out that one feature, Able2Extract Professional is a well-rounded PDF tool that can do a lot more.
It has PDF conversion, creation, and editing. The PDF suite also comes equipped with PDF annotation, redaction and security features. Moreover, the software can even fill, edit and create PDF forms as part of its arsenal of PDF tools.
The latest Able2Extract Pro 15 can accommodate different tasks and help you work with PDFs easily. Now, we know you can say that about just any PDF tool out there, but this all-in-one suite targets all aspects of how you handle and interact with PDFs.
Below we give you a quick look at its latest features, and as an added bonus, a few tips on how you can use Able2Extract Professional 15 to help you during tax season.
With new and improved functionalities, Able2Extract Professional 15 became even more versatile PDF desktop solution. Here are the highlights:
Redesigned User Interface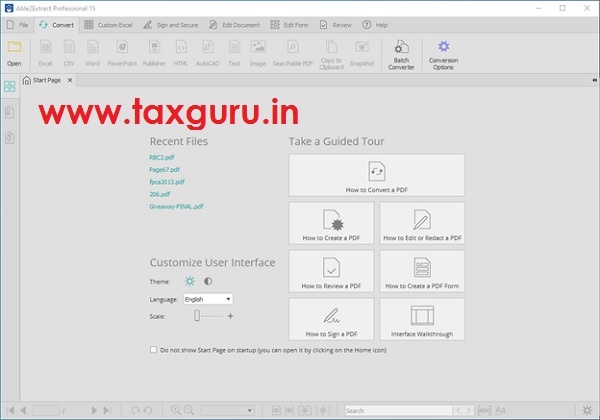 Toolbar and Side Panel – The toolbar makes locating PDF tools and functionality easy by grouping them together under a ribbon-style menu. Each feature has a corresponding set of options that display in the new Side Panel.
Start Page – Get started with any PDF task from this area. Access recently opened PDFs, learn how to navigate and perform PDF tasks with how-to tutorials, and customize the interface with a couple of clicks.
Light and Dark themes – Adjust the look of the interface to suit the lighting of your working environment and reduce eye strain.
Language Support – You can change the interface language. Work in French, Spanish or German.
Batch PDF Creation
There's batch PDF conversion, and now there's batch PDF creation. The new Batch PDF creator lets you instantly create PDFs from multiple file formats just as you would convert. Just upload your files in the queue and you're ready to go.
What's more is that this tool comes with the added benefit of merging PDFs together into one file for faster PDF creation from existing PDF documents on your computer.
New Supported Languages for OCR
This version comes with the ability to convert scanned PDFs in different languages. Like the new interface, the OCR engine now supports French, Spanish and German languages. So even scanned PDFs in different languages is just as simple as converting native PDF files.
Improved Batch PDF Conversion
The original batch conversion tool of this PDF suite has also been improved. For one thing, it is now equipped with batch PDF to HTML conversion. For another, it comes with a new file type filter to single out the files you want converted when uploading whole directories that contain different file formats. Lastly, you can merge those results into a single output file format to conveniently merge converted results in one shot rather than individually.
Custom Excel
Able2Extract still features its hallmark Custom Excel conversion feature that allows you to man handle the rows and columns of PDF tables and get them outputted into formatted spreadsheets.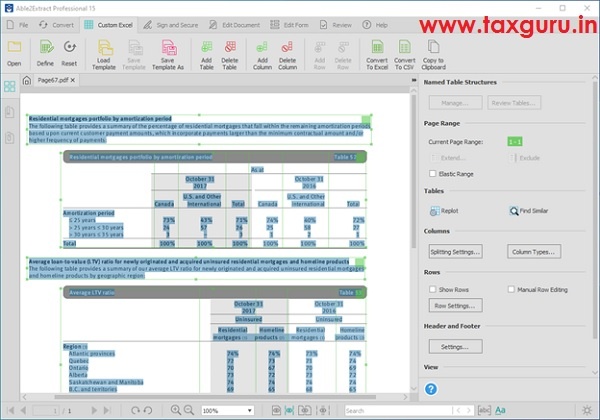 Well, this year it's been boosted with the ability to set header, footer and text splitting options for individual table structures you selected. This makes for an even more tailored table-by-table data extraction just the way you need.
Working in conjunction with the new features of this version, there are a few ways this software makes tax time with your PDF files a smoother experience. Try these tips out:
Tax Tip 1: Fill Out PDF Tax Forms
Filling out tax PDF forms during tax season is always a staple task you can be sure you'll have to do. This suite is also capable of helping you accomplish that task with PDF forms that are saved on your computer can easily be filled out.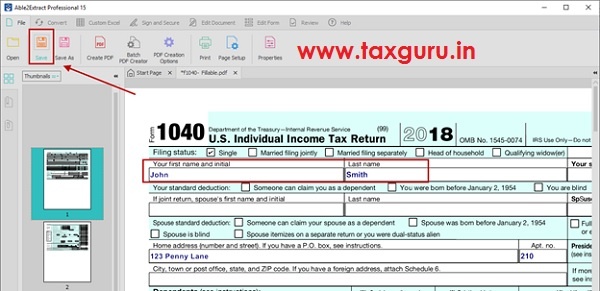 Open your PDF form in Able2Extract Professional 15 and click on the File tab. You can then fill in the PDF form fields as needed. You can even sign them by adding electronic or digital signatures. When you're done, click on the Save icon to save your PDF form.  Or, if there's a submit button, click on it to send your data to servers.
Tax Tip 2: Convert PDF tables to Excel to Analyze Finances
For crunching numbers from PDF statements, it may help to get that data into Excel. This is where the Custom Excel conversion feature shines.
To start, open your PDF statement in Able2Extract. Click on the Excel icon and then click on Define in the Convert to Excel dialog. Choose the best options that best describe your PDF table structures in the Define Structure dialog that appears. Click on OK.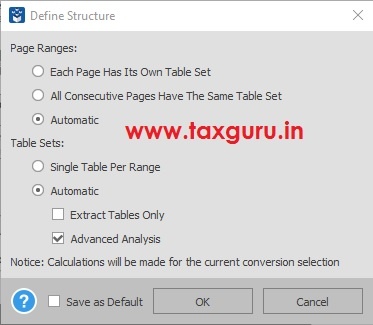 You can then customize the tabular data you want converted and how. Add or delete tables, columns, and rows. You can even create a template that lets you set up your Excel conversion once and use it on other PDF statements that are (highly likely) laid out in the same format.

The new Side Panel offers up additional settings to help refine the table extraction to Excel, including the ability to Preview how your conversion will look like in Excel. When you're happy with how everything is set, click on Convert to Excel in the toolbar and Save your file accordingly.
Tax Tip 3: Organize and Merge PDFs by Tax Year
The new version outlined above has one feature that you can use to help organize any and all related tax docs, scanned-in PDF receipts, tax tables, financial data, and banking statements by tax year.
Upload your batch created PDF files in the Batch PDF Creator tool (quick tip: if you have all your PDF tax files in a single folder, upload the folder by clicking Add Directory… to speed up the process). Check the Merge Results Into a Single File option. Rename the file to include the current tax year you're filing for. Click on Browse… to select a specific location. Then click on Create.
Start Working with PDF Documents with Ease
With everything covered in this review, it's easy to see where you could use a tool like this. The features don't even stop there. The above comprises less than half of the features this tool has to offer.
We would say that it is more than worth the trial run. Try Able2Extract Professional 15 free for 7 days to discover all of its features and test out the above tips. It is available for Windows, macOS, and Linux users.