Policy Relaxation Committee (PRC)
Policy Relaxation Committee (PRC) is also referred as Exemption from Policy/Procedures (EPP). DGFT may in public interest pass such orders or grant such exemption relaxation or relief, as he may deem fit and proper, on grounds of genuine hardship and adverse impact on trade to any person or class or category of persons from any provision of Foreign Trade Policy (FTP) or any Procedures. While granting such exemption, DGFT may impose such conditions as he may deem fit after consulting the Committees as in the table given below:
| | | |
| --- | --- | --- |
| Sl.No | Description | Committee |
| 1 | Nexus with Capital Goods (CG) and benefits under Export Promotion Capital Goods (EPCG)Schemes | Export Promotion Capital Goods (EPCG) Committee |
| 2 | All other issues except Fixation / modification of product norms | Policy Relaxation Committee (PRC) |
DGFT introduces online e-PRC System for Application seeking Policy/Procedure relaxation
Directorate General of Foreign Trade (DGFT) has issued a Trade Notice No. 38/2020-2021 dated 18th January 2021 in order to introduce a new module (online e-PRC System) for seeking policy/procedure relaxation in terms of Para 2.58 of FTP relating to Exemption from Policy/Procedures which shall come into effect from 25th day of January, 2021 onwards. Therefore, all applications seeking policy/procedure relaxation from 25th day of January 2021 and onwards are mandatorily required to be submitted online through the exporter's dashboard on the DGFT Website. Presently, Directorate is receiving applications for seeking policy/procedure relaxation in manual form (i.e.in the form of hard copy of prescribed format ANF 2D along with proof of payment of application fee and other related documents) which is talking lot of time.
If you feel one of the members should be present in-person to explain and elaborate on the PRC request, then you may apply for the PRC with PH.
Note: Personal Hearing is not mandatory for the applicant.
There is no document mandatory for the filling PRC application. However, you may attach any other supporting document to your application by selecting other option in attachment section
You can submit up to 10 attachment in along with the application. In case you have more than 10 attachments in that case you must submit the physical copies of the same to the DGFT HQ within 7 days of application submission.
As Per Appendix 2K following are the fees application
For Fresh Application Rs. 2,000/-
For Review Application Rs. 5,000/-
Following steps to be followed for filing PRC application
First, we need to login to DGFT portal
Go to dashboard select PRC under the head of Services
Select the Apply for Relaxation
https://www.dgft.gov.in/CP/?opt=policy-relaxation-committee
Prerequisite for ANF-2D (PRC)
To apply for ANF-2D (PRC) on the DGFT portal you would require:
User is active and logged into the DGFT Customer Portal.
User is authorized to draft and submit applications for an IEC.
IEC should not be cancelled or suspended. User will not be able to submit the application if IEC is cancelled or suspended.
User is e-Sign enabled. User can sign or validate the PRC application with the Aadhaar or digital signature (DSC)
To apply for the Policy Relaxation user needs to file the ANF-2D. User is requested to fill all the mandatory fields marked with asterisk (*) sign
Step 01: Visit the DGFT website (https://www.dgft.gov.in/CP/) and login into the portal with valid credentials
Step 02: Login Click on Services >> Policy Relaxation Committee >> Apply for PRC Committee link
Step 03: Click on Apply for PRC Committee " user will be able to apply either for the 'Fresh Application' or can proceed with an existing application
Step 04: Fill the Applicant Details
Application Type: Application type as fresh application or existting application and fresh application will be selected by applicant
Committee Type: Pre default value will be selected as 'Policy Relaxation Committee'
Step 05: Fill the applicant details as mentioned below
Branch details: Select branch code from from the list shown. Branch code list will be as per the branches listed in the IEC module.
Step 06: On selection of the branch code from the drop down below mentioned details will be auto filled that is captured from IEC
Entity's Branch address, Applicant Name, Email-Id, Mobile Number
Step 07: Select the Scheme name from the list. In case the respective scheme is not listed in the list select "others" and can file in the scheme name.
Step 08: After entiring the Authorization/Scrip details user will click on 'Add Authorization/Scrip details button to add the authorization/scrip details to the grid
Note: User can 'N' numbers of authorization or scrip details by clicking on Add Authorizations details button.
Step 09: User Can update/edit or delete the authorizations details by clicking on and delete button present in the grid.
Step 10: Click on Save & Next button to proceed further to the next page
After Filling the applicant Details. Fill the personal Hearing Details.
Select 'Yes' or 'No' for do you want to apply for Personal Hearing
Step 11: On Selection of Yes below mentioned screen will appear and User will enter the Personal Hearing details.
Step 12: Click on Save & Next button to proceed further.
Step 13: Select the Attachment type and can add remarks if required.
Click on Upload attachment button to add attachment and remarks to the grid as mentioned below
Step 14: Click on save & next Button to proceed further

Step 15: Accept the declaration by selecting the check box and entering Place name.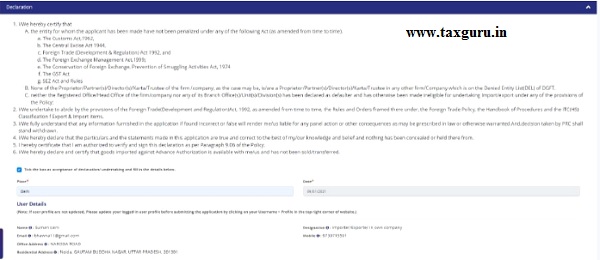 Step 16: Application summary for all the input fields entered will be shown and user can download the summary in pdf format by clicking on Print summary button
–
Step 17: After E-sign the application, E-payment receipt along with payment details will be generated and application is successfully submitted to DGFT.
View and Track Status
User can track the status of the submitted application
Step:01: Select My Dashboard >> submitted application
Step:02: On Click of submitted application below mentioned screen will appear
Step:03: User can search the application with the below mentioned search
Type of scheme: User will select the type of scheme as Policy Relaxation Committee (PRC)
Type of sub-Scheme: Apply for PRC Committee- ANF-2D
From and To Date: User can search the application by through date range
Application Number: User can search file with application number available
File Number: User can search file with the valid File number
Step:04: User need to enter the mandatory field to check the file details
Step:05: Click on Action button to view the various File Details
Print: To print the submitted application
Attach Documents: User can attach extra documents for the submitted application, if the request is in 'In progress' status
Payment Details: User can check the payment details and download the receipt for the submitted application
View Life Cycle: To check the action taken on your submitted application. Example, to track which action is taken when and by whom.
DSC/e-Sign Details: To check the DSC and e-sign details
Withdraw: If the submitted request is still in 'In progress' state then, applicant has an option to submitted another request for withdraw the application.
Note: Withdrawn action is not auto approved, request will be submitted to concerned DGFT officer and accordingly action will be taken by them (refer below screenshot)
Respond to Deficiency: This option will be available only when the status of the application is 'Deficient' applicant will be able to check the deficiency details like deficiency issue date, Deficiency Letter, remarks and user can respond to this deficiency by clicking on respond to deficiency button.
User can respond to deficiency in two ways:
A. With amendment: user will amend the application with attachment and adding additional remarks
B. Without amendment: User will amend the previous application and attach additional remarks and submit the application
Online Proceedings:
Department officer will call for the personal hearing against the application submitted with meeting date, time and venue, he can check under 'Online proceeding' section
Step 01. Applicant will check for the personal hearing go to DGFT portal select My Dash board then online proceedings
Step 02. After clicking on online proceeding. Online Proceedings grid will be shown as mentioned below
IEC: IEC number of the importer/exporter
File number: PRC committees file which is submitted by importer/exporter
Proceeding Name: Name of the Proceedings Ex: Grievance Committee
Proceeding status: Status of the file submitted by importer/exporter
Step 03. Click on Proceeding Name link to submit the personal hearing response.
Step 04. Click on UDIN number under UDIN heading to view the personal hearing the letter
Step 05. On click of UDIN number personal hearing approved letter details will show.

Step 06. Click on View letter link to view the personal hearing letter.
Step 07. Click on Submit link under Response heading to submit the Personal hearing response
Step 08. Submit link under response heading.
Step 09. User provides confirmation for hearing as Yes/No.
Note: Confirmation for Hearing is pre-selected as: Yes
Step 10. Add mandatory attachment
Step 11. User will sign the declaration, add Place and click on save & next button
Step 12. On click of Save & next button. User will E-sign the document with Aadhar or Digital signature (DSC)
Step 13. Click on 'submit' to submit the response
Step 14. Response will be submitted successfully