Latest Update on IBC
Gist of Report of Standing Committee on Finance 'Implementation of IBC- Pitfalls and Solutions'- on IBC 2016
On 28th July 2021 Lok Sabha had passed the Insolvency and Bankruptcy Code (IBC) Amendment Bill, 2021 and on 3rd August 2021 Rajya Sabha had passed the same and it has become Insolvency and Bankruptcy Code (IBC) Amendment Act 2021 (IBC AA 2021).
This IBC AA 2021 has replaced the IBC Amendment Ordinance promulgated by the President on April 4, 2021. IBC AA 2021 is majorly changes facilitating Pre-Packaged Insolvency Resolution Process (PPIRP) for corporate persons that are MSMEs. Vide IBC AA 2021 a new Chapter III-A containing sections 54A to 54P for PPIRP is inserted.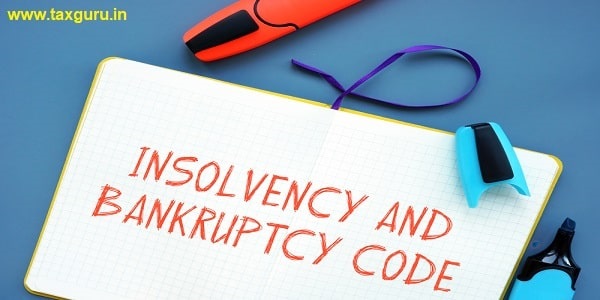 A. WHAT—Background for Report of Standing Committee on Finance
IBC 2016: Insolvency & Bankruptcy Code, 2016 (IBC 2016) was based on recommendation of BLRC (Bankruptcy Law Reforms Committee). With enactment of IBC 2016, India's rank in ease of doing business was improved from 62 in 2017 to 25 in 2020.
Six Amendments in IBC 2016: On 16th November 2017, ILC (Insolvency Law Committee) was set up . On 6th March 2019 ILC was reconstituted as Standing Committee. ILC has so far made various suggestions and recommendations and IBC 2016 was amended in 2017 to 2020. Since 2016, there were six amendments made to IBC 2016 on 23.11.2017, 06.06.2018, 16.08.2019, 28.12.2019, 05.06.2020 and 04.04.2021.
PPIRP: On 4th April, 2021, through Ordinance, PPIRP (Pre-packaged Insolvency Resolution Process) framework was introduced in IBC 2016. On 5th August 2021 , IBC AA 2021 is passed in Rajya Sabha also.
Cross Border Insolvency: Based on recommendation of ILC 2018, very soon Cross Border Insolvency may be notified. Ministry of Corporate Affairs (MCA) is working on it.
IBC 2016 is based on four Pillars:
1. Insolvency Professionals
2. Information Utilities
3. Adjudicating Authorities (NCLT & NCLAT)
4. IBBI ( Insolvency and Bankruptcy Board of India)
IBC 2016 is the most dynamic and evolving law, in which Creditors are in control of corporate debtor. Objective of IBC 2016 is to re-organize corporate in a time bound manner for maximization of value of assets, promote entrepreneurship and balance the interest of all stakeholders.
B. WHY– Need for the recommendation:
1. Various amendments under IBC 2016 digressed basic design of IBC;
2. Impact of Pandemic ;
3. Delay in resolution process; and
4. Low recovery rate with haircuts as much as 95% ;
All the above issues compel to thoroughly gauge the extent of objectives fulfilled in the course of implementation of IBC 2016.
C. HOW–Various Recommendations
To secure the right of Creditors and to have benchmark for the quantum of "hair-cut", comparable to global standrads.
1. Role of Resolution Professional
a. Institute of Resolution Professionals may be established to regulate functioning of Resolution Professional.
b. Capacity enhancement program should be conducted for IP, IP Agency and Information Utilities
c. Need to have professional code of conduct for Committee of Creditors (CoC)
2. Committee of Creditors
a. CoC to frame guidelines for the selection of Resolution Professional (RPs) in a more transparent manner
b. CoC should not accept late and unsolicited resolution plans, which discourage genuine bidders
3. NCLT System
a. NCLT should accept defaulters within 30 days and transfer control to Resolution professionals within the time period, to avoid  erosion of value of Corporate Debtor (CD)
b. NCLT members need to be trained and highly experiences for quality of judgement
c. NCLT should be adequately staffed
d. National Law School be involved in NCLT system for academic research, training materials and support.
e. Dedicated benches at NCLT solely for IBC 2016 need to be created.
f. Need to have specialized benches for sectors such as MSMEs with domain expertise.
5. Resolution Plan
a. Resolution Professional to have flexibility to dispose of the corporate defaulter across multiple bidders each taking different pieces of the assets.
b. Resolution Plan may provide for sell of business in piece meal and not in entirety as a Going Concern.
c. Liquidation requires dissolution and hence liquidation as a going concern is ultra virus and hence Regulation 32 of IBC (Liquidation Process) Regulations, 2016 need amendment.
6. IBC Ecosystem Digitization
a. IBC has completed five years of its journey, now NCLT and NCLAT should totally digitize its records, operations and continue with virtual hearing to clear the accumulated pending cases expeditiously. All data should be in machine readable form.
b. Appraisal study on the performance of NCLT should be conducted.
c. Study should also be conducted on IBC cases and its impact on credit markets in India.
d. For such study, Ministry of Corporate Affairs (MCA) to invite business schools or law universities for academic research and benchmark the outcome against rest of the world.
e. MCA must take prompt actions to simplify operational processes and functioning of NCLT or NCLAT by issue of guidelines, rules or orders.Ensure preventing frivolous appeals and misuse of provisions and processes.
7. Pre Pack Insolvency Resolution for MSME
a. Pre-pack framework to be gainfully employed with strict timelines to achieve speedy and cost effective resolution of stressed MSME , there by economy.
b. Pre-pack framework should not be abused.
c. MSME are unsecured creditors and in "waterfall" mechanism, they come after Secured Creditors. This need to be reconciled with MSME Act and additional protection may be given to MSME.
8. Cross Border Insolvency
a. Recommendation of expert committee on Cross –Border Insolvency Rules/ Regulation Committee (CBIRC) to be adopted.
b. Provisions of the Cross- Border Insolvency framework should be expedited which should go long way in ensuring coordination and communication between jurisdiction to address resolution of cross border insolvency cases.
9. Strengthening Homebuyers Rights
a. Once a single homebuyer decides to initiate insolvency proceedings in NCLT, the real estate owner should be obligated in the Rules/ Guidelines to provide details of other homebuyers of the projects to the concerned homebuyer so that 10% or 100 homebuyers can be mobilized for initiation of a resolution plan.