As we all know that, whenever we download Form 16 or Form 16A from TRACES it is in text file format. We can't issue this text file certificate to deductee therefore it became mandatory to convert it into PDF file. Hence today I am covering this topic as to how we can convert text file into PDF.
Steps to convert Form 16 or Form 16A into PDF –

Extract Zip file containing TDS certificate data in text form by using WinZip version 9.0 and above, WinRaR version 3.90 and above and 7-Zip version 4.65 and above.
Extract zip file by providing the TAN registration number.
Download the "PDF converter utility" from TRACES website.
Note:
Extract TRACES-PDF-CONVERTERV1.4L.zip file in a folder on your system.
If WinZip is not already installed on your system ,download it from www.winzip.com and install it.
After extraction you will have Run.bat file and TRACES-PDF-ConverterV1.4L.jar in a same folder.
To run this Utility, JAVA 8 update 45, JRE version 1.7 or above is required. Get the same from www.java.com and install.
Then Open "PDF converter utility". You will get the following screen once that utility is open: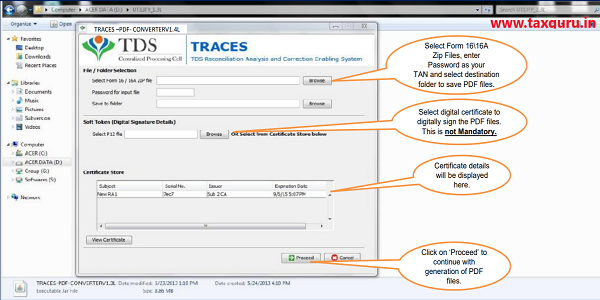 5. After inserting all the relevant details and attaching correct file in this utility, click on Proceed.
6. On successful conversion of PDF files message "File generated successfully" will be provided (see Fig 1.10 below) and utility will generate the folder (folder name will be TAN_FORM16A_AY_Quarter_Date) which contain PDF of all the deductee PANs present in input file.
Note:
Separate PDF files will be generated for each PAN and will be saved in the destination folder selected by you.
User can opt to manually sign Form 16 A PDFs after printing them.
Please note that there is E tutorials provided by TRACES for how to download Form 16 or Form 16A. The link of the same is given here for your refence – https://contents.tdscpc.gov.in/en/download-form16-etutorial.html