CA Atul Modani
GST was launched within a short span of passage of GST Act to be effective from 1st July 2017 so as to avoid further constitutional and legal problems which were marred by the Political scenarios over the last decade. Even rate notifications were issued on 28th June 2017.
This has affected almost everyone as the various nitty-gritties of the law, migrations and new registration and related technical snags in GSTN , non operationalisation of each and every necessary form/ functionality on GSTN have already given many sleepless nights to Taxpayers as well as Tax Professionals.
One such aspect which is observed by many is not able to opt for composition for the Financial Year 2017-18 even though last day to opt for the same in case of Migration cases is 16th August 2017. Few of the latest grievances were as under
While GST officials were not able to address the issue via any official communique or twitter handle, the brainy and alert citizens broke the ice and found the solution and also shared it via platforms of social media. 
Solution:
There seems to be a technical snag/ wrong mention of year at the GSTN portal. Even If the migrated dealer opt for the composition (the last date of which is 16th August 2017), it shows only the year 2018-19 thereby denoting that they can-not opt for composition which is wrong.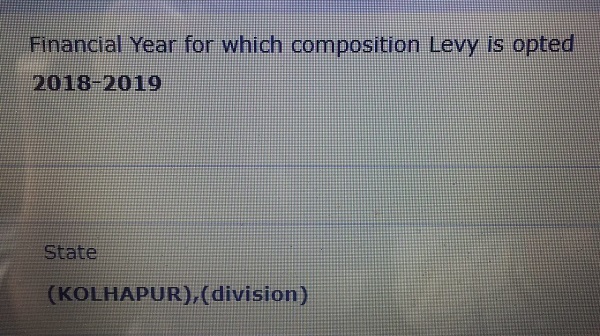 Even in such circumstances if you opt for composition, you will get a message that "ALREADY OPTED FOR COMPOSITION SCHEME FOR THE CURRENT FINANCIAL YEAR" as below,
Do try it and see if your problem is resolved.
CAUTION & DISCLAIMER:
Kindly take screenshot of before and after opting alongwith date field at bottom right hand of your computer to avoid any surprises in future because of technical issues in GSTN Portal. The above Article is based on feedback from friends on social media for the benefit of you all.
The Author is a practicing CA actively involved in writing articles and sharing taxation and legal updates across different modes of social media. He can be reached at atul@caclub.in.