In GST law, outward supplies are reported through GSTR-1 which serves a lot of purpose for:
Supplier – GSTR 1 Helps in determination of Outward liabilities
Recipient- GSTR 1 helps in Verification of Inward Supplies
Government – GSTR 1 forms the basis for allocation of GST to States, UTs and Center
The resulting tax liability is discharged through GSTR-3B.
Expectations
No gap in values filed in GSTR-1 and GSTR-3B for outward liabilities.
For all details including amendments filed in GSTR-1 of a tax period, liability should also get discharged in the same tax period GSTR-3B only, not earlier (even if it leads to interest saving) or later, leading to no difference.
Is this expectation real or practical?
I believe, not always, which is why amendments (revision at line-item level) are enabled GSTR-1 and spill over is allowed in subsequent periods or financial year.
GST Officers are up in arms with GSTN giving comparison report for GSTR-1 versus GSTR-3B, giving them reason for issuing notices for the difference. This is very common notice that almost every taxpayer receives for "Difference/Mismatch in Outward liability reported in GSTR-1 versus GSTR-3B" for tax period(s), which is based on the Tax comparison Report available on GSTN.
| | | | |
| --- | --- | --- | --- |
| Tax Period |  Liability declared in GSTR-3B during the month [as per table 3.1(a)] |  Liability declared in GSTR-1 (other than reverse charge supply) during the month (as per table 4A,5, 6C,7, 9A, 9B, 9C,10,11) |   Shortfall (-)/ Excess (+) in liability (GSTR3B – GSTR1) |
|   |  IGST/CGST/SGST | IGST/CGST/SGST | IGST/CGST/SGST |
| MMM-YY | | | |
Further, discharging liability through GSTR-3B and making corrections through GSTR-1 can be in different tax periods, also to seize the interest liability on unpaid liability before corrections in GSTR-1 is done as it is also complex to segregate GSTR-1 data and may take time.
The Comparison report is NOT Comparable
Yes, you heard it right, amendments in GSTR-1 has period tagging for every data uploaded and but GSTR-3B amendments are added or adjusted in the periodic values itself, thereby loosing period identification unless taxpayer himself declares and explain, out of the system.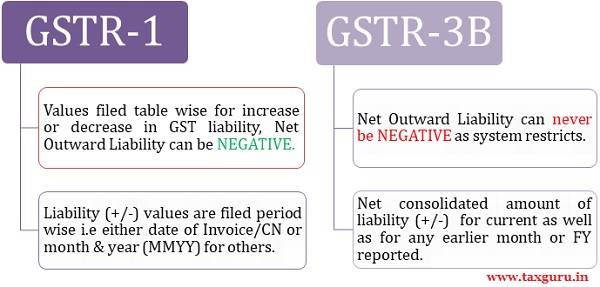 The Defects
GSTR-1 itself is unable to show values SATISFACTORILY!
Any financial report that we see (Financial Statements, budgets, Income Tax returns) is backed by underlying details and workings substantiating the values (in short self-explanatory) period wise, which is not the case with GSTR-1. It has even no summary to show up the liabilities based on data filed to verify the values filed with internal workings.
Still, one gets confused looking at GSTR-1 report and finding no Summary of NET tax liability payable on GST portal, unless taxpayer's refers its own internal workings.
There is no detailing on how system is calculating values at line-item level, one needs to verify through independent working.
There is NO tax period tagging or segregation of outward liabilities as to for which period (s) the liability is being shown or calculated.
Fortunately, since few months, due to auto-population in GSTR-3B, you can see summarised liability based on data filed in GSTR-1 without any tax period breakup of GST liability as shown in above image. This liability matches with values reflected in Tax Comparison Report (TCR) for GSTR-1 versus GSTR-3B. Again, taxpayer may get confused on seeing GSTR-1 values greater than auto-populated data due to reasons mentioned above and hence GSTR-1 values are illusionary or magical. 
Effect of Amendments in GSTR-1
Amendments in GSTR-1 is facilitated through different tables which correlates data of previously filed values and takes only incremental or decremental tax effect in TCR which is magically accurate without providing linked workings or details.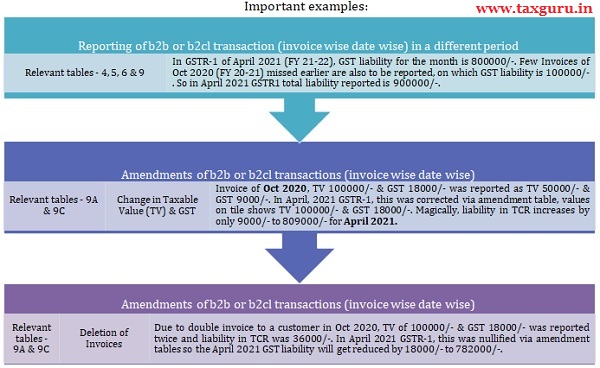 Technically, while allowing amendments, system does a lookup for data filed earlier and takes only net impact in current month liabilities. Unfortunately, that corresponding original values are not available for taxpayer's comparison and analysis of impact over current month data in GSTR-1 or any other report available on GST portal. Only taxpayer's internal workings while filing amendments in GSTR-1 can help to reply to notices as department officials also ignore these spill over data which are part of TCR.
Continuing with above examples, let's now see few more examples with numbers summarized in more detail in below table.
Some of the most critical amendment type (considering difficulty in tracking) is at row 5, 6, 10 & 11 in the above table. To elaborate for row 5, which has difference in tax head type i.e CGST+SGST liability will increase but IGST liability will decrease (without there being any line item to this effect) for April 2021 GSTR-1.
Please note that any amendment in GSTR-1 can be done only once.
While these amendments appear with Taxable value & GST (revised) in GSTR-1 tiles, GST liability is effected only on net basis (Net TV and Net GST). All these amendments can impact liability reported in GSTR-1 for 3 Financial Years, i.e, GSTR-1 of FY 20-21 contains data related to FY 19-20 till Sep 2020 and amendments related to FY 20-21 will be filed in GSTR-1 of FY 20-21.
Therefore, without segregation of GSTR-1 data, period wise, comparison is not possible with GSTR-3B or even the liability as per books. If correct and comparable data is available to GST officers, Notices for differences merely because of above discussed amendments carried in subsequent FY can be avoided and save time of both taxpayer and GST officers.
Solution
Wondering how to avoid these reconciliations?
GSTR-1 Amendments should be avoided and should be used only as a last measure. Rather focus should be on fixing accounting challenges. If needed, amendments should be done only once for a FY to reduce number of reconciliations.
However, due to nature of business or practical challenges, this may not be doable in some entities. Hence, for such cases, following can be opted.
Any Invoice issued earlier now necessitating amendment should be reversed via a Credit Note and Fresh Invoice should be issued to customer. This will nullify earlier transaction through a separate line item and no editing/amendment to earlier invoice will be required. This is also imperative where, initially customer does not provide GSTIN (hence b2c) and later requests for making amendment in the same invoice to make it b2b again if accepted, will necessitate amendments of B2b and B2c tables in GSTR-1.
Issuing fresh Invoice in same date or tax period may not be possible where accounting system or internal control policy restricts, but an invoice of later date or tax period may impact recipient's ITC timing, leading to interest risk on such time gap which was originally intended to be availed in a pervious tax period. Though this is only a technical arrangement to avoid complex reconciliations, department may not accommodate this easily.
This approach will also reduce the month-on-month gap between GSTR-1 and GSTR-3B as transactions would be uploaded in regular flow for both returns without changes in previously filed data but through new transactions.