With the introduction of Goods and Service Tax in India, crores of taxable persons have registered under GST and are now required to comply with various GST compliances. In order to make the compliance easy for businesses registered under GST, the Government has taken various initiatives such as GST Facilitation Centres and GST Practitioners. In this write-up, we will discuss everything about GST Practitioner and the procedure for becoming a GST practitioner.
1. Who can be a GST Practitioner?
Following are the people who can become a GST practitioner as prescribed under the CGST Act:
A TRP (Tax Return Preparer) or a Sales Tax Practitioner registered for a period of 5 years or more

A retired officer of the CBEC or Commercial Tax Department of any State Government (with a minimum 2 years experience of working in a post of Group-B (or higher) gazetted officer)

A graduate or a post-graduate in Law, Commerce, Banking or Business Management or Business Administration from any Indian University or a recognized Foreign University

A qualified CA (Chartered Accountant), CMA (Cost & Management Accountant) or a CS (Company Secretary)
2. Roles and Responsibilities of a GST Practitioner
Once a person is registered as a GST practitioner, he has the following roles and responsibilities under the GST regime:
Filing GSTR-1 and GSTR-2 with the details of outward and inward supplies

Filing of GST monthly, quarterly or annual returns on behalf of his clients

Representing the clients before GST authorities

Filing refund claims, upon confirmation from clients

Making deposits for credit in the electronic ledger

Filing applications in case of any for changes (amendment) or cancellation the registration
3. GST Practitioner Exam Date
The National Academy of Customs, Indirect Taxes and Narcotics (NACIN) has been authorized for conducting the examination for the enrollment of GST Practitioners (GSTP), vide Notification No. 24/2018-Central Tax dated 28.5.2018
As per the Ministry of Finance, a person can be enrolled as GST Practitioner only after passing the examination. A person seeking registration as a GST Practitioner have to clear the GST Practitioner examination before the 31st of December.
4. Conditions for becoming a GST practitioner
1. The applicant must be an Indian Citizen
2. The applicant should be a person of sound mind
3. The applicant should be not be adjudged as an insolvent
4. The applicant should be not be convicted by a court for an offence with imprisonment of a period exceeding 2 years
5. Validity of GST Practitioner License
The GST practitioner license would be valid until it's cancelled by the relevant authority.
A person seeking for GST practitioner license through tax return preparer or the sales tax practitioner route are required to pass the examination conducted by the GST Authority within one year from the implementation of GST.
6. Documents required for registration as a GST practitioner
Enrolment type (Central or State application),

Bar Council Membership Proof – For Advocates

Date of enrolment,

Photograph(jPEG-100kb),

date of enrolment,

Valid e-mail id,

Valid Phone number,

Membership number and valid up to

Name of university/institute and

Office address proof,

A digital signature, and

Year of passing

Qualification proof: Certificate of Practice – For Chartered Accountant, Company Secretary, Cost and Management Accountant, Bar Council Membership Proof – For Advocates
7. Difference between taxpayer and GST practitioner
A taxpayer is a person registered under GST law for the purpose of filing returns, payment of tax, availing input tax credit and other compliances. Such a person is defined as a 'taxable person' under GST law.
On the contrary, a GST practitioner is a person registered as a GST professional under GST Law. A taxpayer may authorise a GST practitioner to furnish monthly/quarterly/ annual returns and information, on his behalf, to the government. The manner of approval of GST practitioners, the manner of removal,  eligibility and qualification, roles and responsibilities and other conditions relevant for the functioning of a GST Practitioner have been prescribed in Rule 24 and 25 of the Return Rules. A taxable person can add a GST Practitioner to his GST Portal, to allow such a person to make compliance under GST on his behalf.
8. Documents required for Enrolment of a GST Practitioner
Purpose
Acceptable Documents
Max Size for Upload
Photo of Applicant in JPG Format
Photo
100 KB
Proof of Professional Address in JPG/PDF format (Any One)
Any other certificate /
document issued by
Government
120 KB
Any other Certificate or
record from Govt
department
100 KB
Consent Lever
100 KB
Electricity Bill
100 KB
Legal ownership document
1 MB
Municipal Khata Copy
100 KB
Property Tax Receipt
100 KB
Rent/ Lease agreement
2 MB
Rent receipt with NOC (In case of no / expired agreement)
1 MB
Proof of qualifying degree in JPG/PDF format
Degree
100 KB
Proof of designation of post held at time of retirement in JPG/PDF format (Applicable  for Retired Govt Officials only)
Pension Certificate used by AG Office or LPG
1 MB
9. GST Practitioner Registration Process
Step 1 – Log on to the official website at https://www.gst.gov.in
Step 2 –  Select Services – Registration.  Move your cursor on 'New Registration' and click
It will redirect you to a new webpage
Step-3 Click on New Registration
Step-4 In the dropdown list select GST Practitioner
Step-5 Select and enter your State, District, Name, PAN, Email Address and Mobile Number.  Click on 'Proceed'.
Once the validation is complete, it will take you to the OTP verification page
Step 6 – Enter One Time Passwords (OTPs) received on mobile number and e-mail. Click on 'Proceed'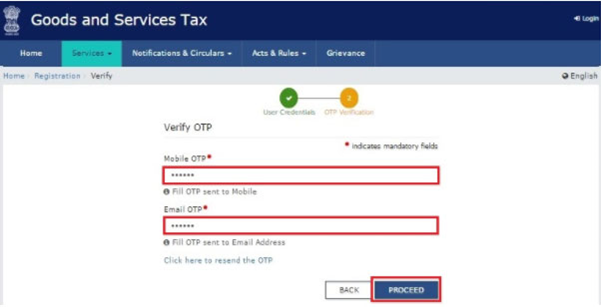 Step 7 – Afterwards a Transaction Referrence Numbar (TRN) will be generated, click on proceed
Step 8 – Enter the TRN and Captcha Code. Click on 'Proceed'
Step 9 – Now enter the One Time Password (OTP) received on the mobile number and click on 'Proceed'
Step 10 – Enter the required details and upload required documents in .pdf and .jpeg format. Click on 'Submit' on the Verification page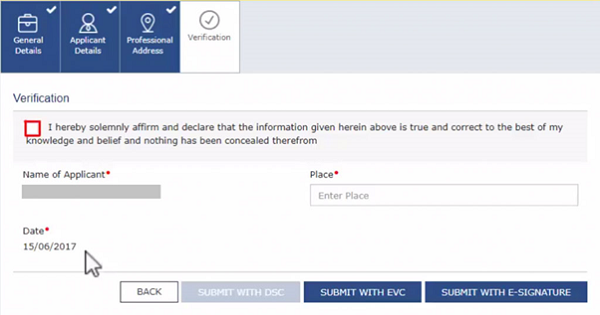 2 ways in which the application can be submitted:
EVC and E-signature – Two OTPs will be send, one to the mobile and one to the email address, both of the OTPs must be entered correctly and then submit the application.

DSC – In this option, the applicant can submit the application using the DSC token. Note: the emSigner (from eMudra) must be installed on the computer and the DSC is registered on the website.
On the completion, a success message will be displayed on the screen and an acknowledgement email will be sent to the registered mail id within 15 days.