How to Apply for Import Export Code Online (IEC) — Know the Process Step by Step
An Import Export (IEC) Code is a 10-digit number given to that person who do import or export goods and services from abroad which provided by Director General of Foreign Trade (DGFT).
IEC is a code allotted on Individual PAN Number or company PAN number for importing/exporting any product goods/services and also to avail several benefits from Export development Council or DGFT.
To getting an IEC Code one you have to submit valid documents and follow relevant procedure so that the Government of India can ensure your identification as any person or as a business company
If you want to know the full details, what documents are required for IEC Registration Code and know its valid format read our straightforward article on IEC Code documents.
Procedure of IEC Code Registration
Following collecting all the documents, let's look at the complete application Procedure of IEC Registration. There are 12 steps associated with the IEC code application procedure.
Here we will guide you with complete step by step along with display pictures of DGFT website to apply for IEC Code procedure.
Steps for IEC Registration Process:
Step 1: Go to the DGFT Website.
First step go to www.dgft.gov.in
You will show welcomed home page by a bright and informational page. Here you will see the latest notification and updates on the screen.
DGFT Website Home Page
Step 2:  Then You need to Go on Services tab.
The Navigation button bar that you see at the top menu given named "Services" mouse pointer over on "Services". A drop-down menu will show with multiple services provided by DGFT will be placed, including the "IEC" option
Click on the Service Tab
Go to mouse pointer over on IEC tab there following tabs will be displayed given blow.
Online IEC Application
View your IEC
IEC Status at Custom
IEC Help
Click one the — Online IEC Application
Click on the Online IEC Application
After clicking the Button Online IEC Application, there will show the following page.
Step 3: Enter your PAN number (A Person/if any Company PAN Card)

Enter Your PAN number in Text Box
Enter the PAN Card Number of the Proprietor or in case of an Entity firm.
Click on the Search Button — There will show Full Page
Step 4: Enter t­he your details (As Mentioned on PAN Card)

Enter your Name Details
In this step, you will see the field where you have to enter the basic details like name, date of birth and Fill Captcha Code
There you will see Entered Your PAN
Enter Your Name (as maintained on PAN Card)
Next — Click one the submit button
Step 5: Enter your mobile number to get (OTP) verification process.
Enter your Mobile number
Enter your Email ID
Enter the Captcha Code on the box below
Click the "Generate OTP" Button
You will receive an OTP number on your mobile and email id both.
Generate OTP
Enter Mobile OTP" in Text Box
Enter Email OTP" in Text Box
Step 6: Fill and Update Application Entity Details
Application Entity Details
Step 7: Add Branch Details (Within 15 minutes)
After filling and updating click on the second alternative for import and export code, "Branch" on the same page upper side.
Branch Details
In this section "Branch details" a proprietorship/ company may be filled. Once you need to fill all the relevant details then click on "ADD". If there you have no Branch Office then keep the space empty.
Step 8: Fill and update the Director/Partner details.
Go on next side of the tab and click on "Director/Partner", etc. Now, you need to fill all the details required any of the Director/ Proprietor/ Partner managing trustee. All the required details
For example-
Enter the PAN Number,
Enter Mobile Number should belong to the person whose parts you are filling. Once all the appropriate options are being filled please click on "ADD" button.
PAN Number,
Residential Proof,
Mobile Number
Email id of each and every of the company/firm partner/director
Director/Partner details
Step 9: Upload Documents Scanned Copies of Essential Documents.
Now you need to click on step 4 for uploading the required documents. Like Address proof, cancelled cheque/banks certificate. Also, pick the document type like PDF or JPEG.
Documents Scanned Copies
Step 10: Fee Payment (Debit/Credit Card Net Banking)
Now go on the next step 5 upper side of the page and click on fee payment. The following page will show up.
Fee Payment
Here you have to enter amount Rs. 500/ government fee of IEC application
Now, you can make the payment by using any the Debit/ Credit Card or can be by Net Banking or Wallets payment facility also available. After successfully the payment you need to come back to the same Page. Pick "Verify Pay" and verify the payment which you have just created.
Step 11: Preview & Print Application
After verifying fee payment, you have done all the over steps now you can preview and take print your application. You can take the print out of this application for business or official purposes. Here all the information you have filled that will show for checking. If you want to change any information, you can go back page and can make the necessary changes.
It is what the page looks like ending. Under the Form, a Checklist will be showing. Please make sure in the checklist that all the conditions specified here have been complied with. For instance, please make sure whether the candidate details filled in the application form are as same as that in the uploaded documents copy.
Step 12: Final Submission You have to do in the last step
In this step, the above-mentioned detail and number will be displayed along with it. The DGFT Office concerned will be auto-selected and displayed accordingly. Click on proceed further. After this, a new page will open which will have a "Submit and Generate IEC Certificate".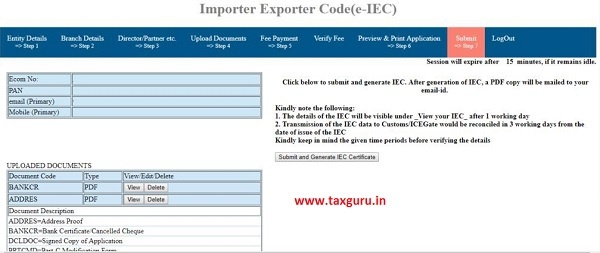 Submit and Generate IEC Certificate
Format of IEC certificate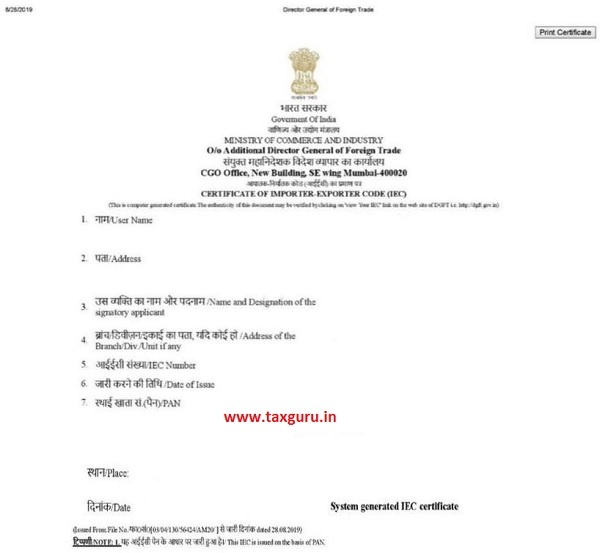 Contanct Finacbooks professional, If you have any query regarding IEC Registration Process. Feel to Free Call us +91–8800221252