BACKGROUND
Since when the Current Central Government Came into power, two things were discussed very frequently which were 1) Labour Reforms and 2) Ease of Doing Business and both these things are some where interrelated, as from time to time if you bring reforms in labour laws the ease of doing business will itself boost and jump upwards.
In India, the labour acts would fall under concurrent list which means both central government and state government could make laws on it. There were more than hundred acts in various states which were governing the labour laws and at the same time there were more than 40 acts which were governed by the central government, due to which the labour compliances in the nation turned out very complex.
To resolve all this complexity a Labour Commission was formed in Year 1999 to which they submitted their report in year 2002 and recommended that the then current labour laws are very old and outdate and need an immediate reform. Agreeing to it, the then central government agreed to come up with the four labour codes. However many Governments came in power since then, but those four labour codes were passed recently in year 2019 and 2020.
With the help of current reforms in labour codes, the central government aims to push India to among the top countries in ease of doing business index. As per the Ease of Doing Business report for year 2020, India had jumped 14 places to the 63rd position in the ease of doing business rankings. India has improved its rank by 79 positions in five years (2014-19).
A detailed comparison score has been charted out after reviewing the Ease of doing business index global reports of the under mentioned countries for the mentioned years.
–
–
Multiplicity of labour laws has resulted in distinct compliances, increasing the compliance burden on firms. On the other hand, the labour enforcement machinery has been ineffective because of poor enforcement, inadequate penalties and rent-seeking behaviour of inspectors. The Codes address some of these aspects.
So many labour laws were creating confusion and overlapping, so the government had a look out on the same and decided to remove this confusion by introducing 4 Labour codes in place of 40+ Labour laws. This would result in
The very first Labour Code that is code on wages was the first milestone in Labour Law Reforms which consolidate four labour laws viz; Payment of Wages Act, 1936, Minimum Wages Act, 1948, The Payment of Bonus Act, 1965 and Equal Remuneration Act, 1976
Now, let's discuss the recently passed Three Labour Codes.
KEY CHANGES IN INDUSTRIAL RELATIONS CODE, 2020
The Second Labour Code that is the Industrial Relations Code, 2020 combines three labour laws viz; Trade Union Act, 1926, Industrial Employment (Standing Orders) Act, 1946 and Industrial Disputes Act, 1947
The major changes in Industrial Relations Code relates to number of workers. If there are 300 or more than 300 workers in an establishment then it has to compulsorily make rules and regulations on 1) Workers Classification 2) Wage Rates 3) Holidays and 4) Paydays. These regulations are also called Standing orders. Earlier this limit was of 100 workers.
Next change from this code is, if in any establishment there is activity related to Closure, Retrenchment or Layoff, in which there are more than 300 workers, then it has to obtain prior permission from government
This Code also talks about that, if any employee/worker has to go on strike then it has to give the establishment a 14 days prior notice, before strike or lock-out and this notice would be valid for maximum of 60 days.
In this code there are few changes made for Trade unions as well. If in any establishment there are more than one trade unions, then it would be provided with Sole Negotiating union only when at least 51% of the employees are members to it. Earlier this requirement was of 75%.
KEY CHANGES IN CODE ON SOCIAL SECURITY, 2020
The Third Labour Code that is the Code on Social Security, 2020 Substitutes Nine labour laws viz; The Employees Compensation Act, 1923, The Employees State Insurance Act, 1948, The Employees Provident Fund and Miscellaneous Provision Act, 1952, The Employees Exchange (Compulsory Notification of Vacancies) Act, 1959, The Maternity Benefit Act, 1961, The Payment of Gratuity Act, 1972, The Cine Workers Welfare Fund Act, 1981, The Building and Other Construction Workers Cess Act, 1996 and The Unorganized Workers Social Security Act, 2008.
This codes brings out a concept of universal social security for the very first time, which includes organized workers as well as unorganized workers. Various provisions are made for comprehensive social security to workers of unorganised sectors as well.
This code speaks about that Government should from time to time formulate and notify suitable welfare schemes relating to provident fund, employment injury benefit, housing, educational schemes for children and further more.
In this code the definition of employees has been expanded to include more workers like, interstate migrant workers, gig workers, platform workers, film industry workers and further more.
After this code came, the gratuity period for working journalists has been now reduced from five years to three years.
Taking into view the recent Covid-19 situation, the government may in future, reduce Employer's and Employee's contribution percentage in provident fund, in case there is another such Pandemic, Endemic & National Disaster situation.
KEY CHANGES IN CODE ON OCCUPATIONAL SAFETY, HEALTH AND WORKING CONDITIONS, 2020
The Fourth Labour Code that is the Code on Occupational Safety, Health and Working Conditions, 2020 Substitutes thirteen labour laws viz; Factories Act, 1948, Dock Workers Act, 1986, Contract Labor Act, 1970, Inter-State Migrant Workers Act, 1979 and Nine other Acts.
Apart from regulating employment, the main focus of this code is to regulate health, safety and working conditions.
The definition of factory has been expanded, if in any establishment where there are more than 20 workers where power aid is used or where in the number of workers is more than 40 but there is no use of power aid, then it would come within the definition of a Factory.
The earlier limit on manpower limit on hazardous working conditions has now been removed. This code has now become compulsory on contractors who employees more than 50 workers. Under this code the daily work limit cannot be more than eight hours.
Under this code, now a woman can work in any establishment.
It would the responsilibty of the employer to provide adequate safeguard in hazardous conditions.
Both Central and State government has to maintain a record of inter-state migrant workers. For this the government is planning to soon come up with a portal.
Worker earning till Eighteen Thousand Indian Rupees would be called by inter-state migrant workers and can obtain various benefits.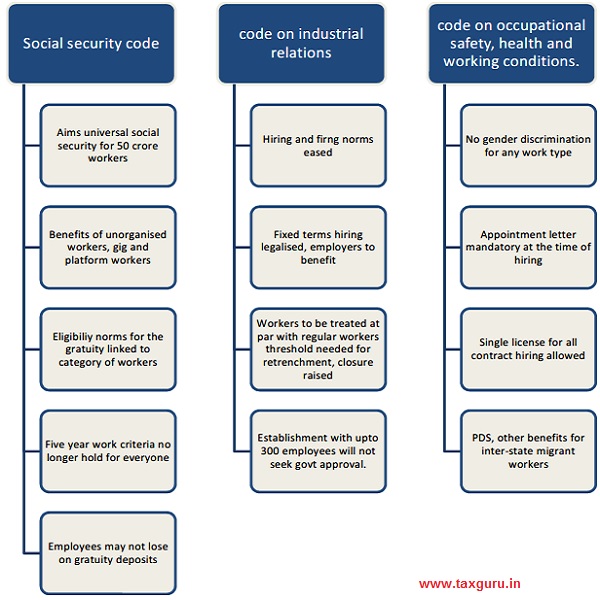 Other Key Amendments:
For applicability of Chapter V-B regarding "pre-condition of permission from the Appropriate Government, notices, compensation for lay-off, retrenchment, closure", the minimum number of workmen in the industrial establishment is increased from 100 to 300 workmen.
In case of retrenchment or closure, in addition to the prescribed compensation of 15 day's wage for each completed year of service, an amount equivalent to his three month's average pay shall also be paid.
In case of retrenchment, the workman has been given compensation corresponding to fifteen days' average pay for every completed year of continuous service or any part thereof in excess of six months; or an amount equivalent to his three months' average pay, whichever is higher.
For the purpose of recognition of the trade union, the threshold membership of the trade union has been increased from 15% to 30%.
For the purpose of application of the Factories Act, the minimum number of workers has been increased from 10 to 20 in case of factories working with the aid of power; and from 20 to 40 workers for factories without the aid of power.
For taking cognizance of any offence under the Act by the Court, previous sanction in writing by the State Government is mandatory, along with complaint by an inspector.
Provision has been made for compounding of any offence punishable under this Act with fine only, and committed for the first time.
The minimum number of workmen in establishment or with contractor is increased from 20 to 50.
No dispute between the workman and his employer connected with or arising out of discharge, dismissal, retrenchment or termination will be treated as an industrial dispute if any such dispute is not raised in conciliation proceeding within a period of three years from the date of such discharge, dismissal, retrenchment or termination.
A male adult worker has been allowed to work in a factory for more than 48 hours in a week subject to the following:-
a) The total number of hours of work in any day will not exceed twelve;
b) The spread over, inclusive of intervals for rest, will not exceed thirteen hours in any one day;
c) The total number of hours of work in any week, including overtime, shall not exceed sixty;
d) No worker will be allowed to work overtime, for more than seven days at a stretch and the total number of hours of overtime work in any quarter shall not exceed one hundred and twenty five;
e) Such overtime work shall not be made compulsory or obligatory for any
The State Government may, by order, specify conditions for ensuring safety or women who are required or allowed to work in any factory or manufacturing process between the hours of 8 P.M. and 6 A.M.
Entitlement, regarding 'Annual leave with wages', for the worker who has worked for a period of 180 days or more in a factory during a calendar year.
Provision of deemed registration if the registering officer fails to pass an order either granting or refusing or objecting to grant or amend the registration within a period of 30 days after submission of an application complete in all respects.
Provision of duly licensed if the registering officer fails to pass an order either granting or refusing or objecting to grant or renew or amend the registration within a period of 30 days after submission of an application complete in all respects
The State Government, by notification, may exclude cost on purchase and transportation of plant and machinery to be used in a factory and such other costs from the cost of construction incurred by an employer.
An employer aggrieved by an order of assessment made under Section 5 or by an order imposing penalty under Section 9, may appeal to the appellate authority against the said order in such manner as prescribed.
The registration deemed to be duly granted, if no adverse order is passed within the prescribed time from the date of submission of application.
An officer can compound any offence punishable with fine under these Acts committed for the first time or after expiry of two years' period of the previous offence, on realization of composition fee as prescribed.
Exempt from maintaining multiple registers and submission of multiple returns under Certain Labour Laws.
The State Government, by order, notify forms for maintaining registers and records and furnishing returns by an employer/establishments in lieu of the forms prescribed under the said 13 Acts.
A Single Annual Online Integrated Return can be filed by employers for 14 Acts. Allow all the shops/ Establishment/Factories to submit consolidated annual returns in lieu of multiple returns under various labour laws
Five services such as approval of drawings, registration and licensing under the Factories Act, 1948; registration of boilers under the Boilers Act, 1923; grant of registration certificate under Odisha Shops and Commercial Establishment Act, 1956; and grant of registration certificates to Establishments under Contract Labour (R&A) Act, 1970 have been rolled out through e-Biz portal for on line delivery of services.
Fifty services under various statutes enforced by the Factories and Boilers and the Labour Directorate are being automated for Ease of Doing Business.
The Government has introduced "Self-Certification Scheme" under various Labour Laws, vide its to liberalize the enforcement of Labour Laws under the concept of Self-Regulatory Mechanism without compromising the safety, health, social security and welfare of the workers. It also gives some exemption to 'New Start-Ups'.
Conclusion:
It would be a huge task for both the State and Central Government to cope up with the new labour codes. As per these codes, now the employers will change their policies and infrastructure then unorganized workers, who were neglected till date will get the basic security and results in business growth. Now with time only we will get to know that how effective and beneficial these new changes will be to the employees, employers and to Economy in general Labour laws would act as catalyst after the reform process is completed with passage of time.
At present, it is cumbersome to be an entrepreneur due to this vicious web of old labour laws which make compliance practically difficult. It is easy to seek employment rather doing own business and becoming a job creator. The codes provide for 'one labour return, one licence and one registration' to smoothen compliance.
The major challenge in labour reforms is to facilitate employment growth while protecting workers' rights. Key debates relate to the coverage of small firms, deciding thresholds for prior permission for retrenchment, strengthening labour enforcement, allowing flexible forms of labour, and promoting collective bargaining.
Further, with the passage of time, labour laws need an overhaul to ensure simplification and updation, along with provisions which can capture the needs of emerging forms of labour (e.g., gig work).