Indian Banks' Association

Corporate & International Banking
CI-I/ICAI/UDINI
March 11,2019
Chief Executives of Member Banks
Dear Sir / Madam,
Unique Document Identification Number (UDIN)
Unique Document Identification Number is an 18 Digit Number randomly generated through the UDIN portal on a predefined algorithm. The portal is available at https://udin.icai.org/ with exhaustive FAQs. Various Regulators / Banks / Authorities / Other Stakeholders will be able to verify the authenticity of the documents issued by practising Chartered Accountants by cross checking the financial figures and its details displayed on the UDIN Portal against that UDIN with the certificate issued, as the access to UDIN Portal is restricted only to full-time practising Chartered Accountants.
In this connection, we invite reference to our earlier communication CI-I/ICAI dated October 1. 2018 (copy enclosed) with regards to UDIN, subsequent to which. ICAI has now made UDIN mandatory in the following phases:
All Certification done by practising CAs w.e.f. 1st February, 2019.
All GST and Tax Audit Reports w.e.f. 1st April, 2019.
All other attest functions w.e.f. 1st July, 2019.
In the first phase i.e. from 1st February, 2019, it is mandatory to obtain UDIN by all practising Chartered Accountants for all certificates issued by them where the Financial Information / related contents is certified as True and Fair / True and Correct.
Member banks are requested to make use of the UDIN facility which will enable banks to verify the attested documents on the UDIN Portal. In case, you need any further information / clarification, you may write to [email protected], directly.
your Faithfully,
B Raj Kumar
Dy. Chief Executive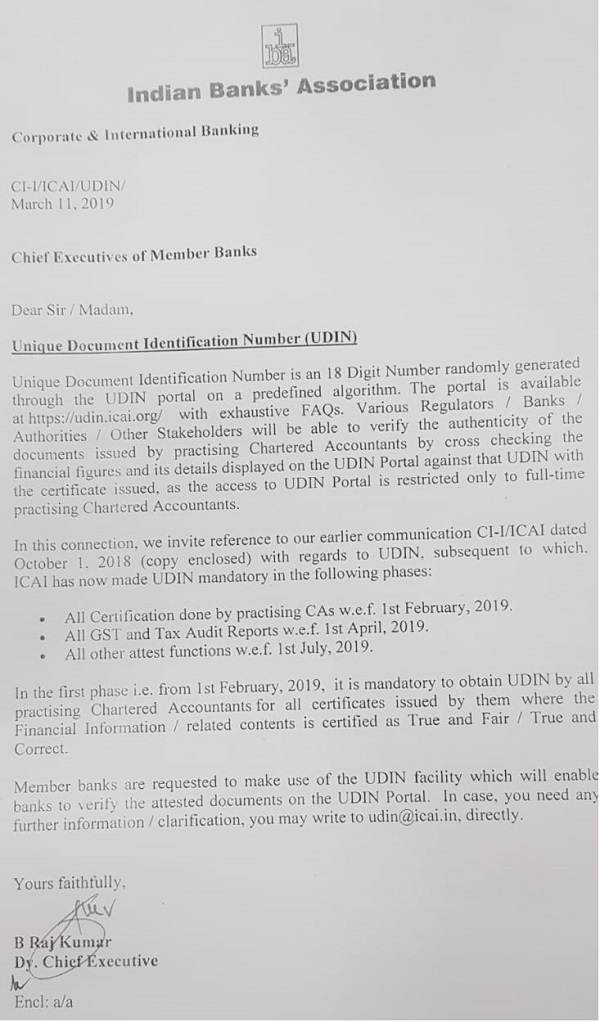 Please note- Above is based on Image Received on Whatsapp.