Ind AS-115 summary
Applicable from April, 2018)
Scope- Applicable to all the contracts with CUSTOMER, except the followings-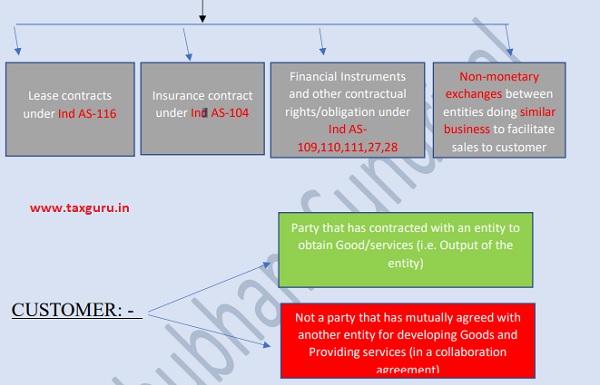 CONTRACT: – Agreement between 2 or more parties that creates enforceable rights and obligation.
–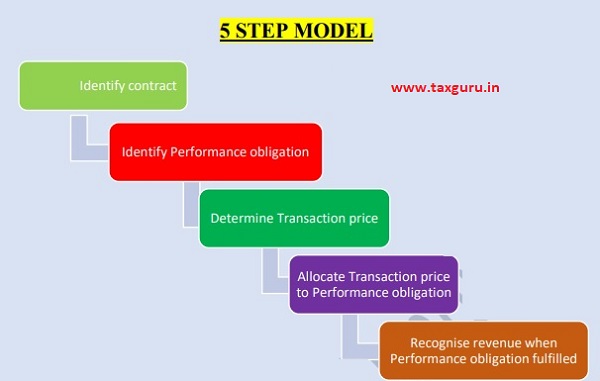 –
STEP-1 IDENTIFYING CONTRACT
Again 5 Key Steps- all should be satisfied
Key point- If step-1 not fulfilled and entity receive consideration from customer
↓
Recognize the REVENUE only if following 2 conditions are met
COMBINATION OF CONTRACT
CHECK WHETHER THESE 2 CONDITIONS ARE FULFILLED:-
STEP-2 PERFORMANCE OBLIGATION
PROMISE to transfer GOODS/SERVICES or SERIES of GOODS/SERVICES (same pattern of transfer to customer) that are DISTINCT
–
Non-Refundable Upfront Fee
STEP-3 TRANSACTION PRICE
–Consideration which an entity expects to be entitled for discharging performance obligation (excluding amount collected on behalf of 3rd party).
CONSTRAINTS IN VARIABLE CONSIDERATION
↓
Significant reversal in already recognized revenue
SIGNIFICANT FINANCING COMPONENT
↓
If the time GAP between performance obligation & payment (advance or after delivery) is SIGNIFICANT (>12 months). It will be treated as hidden loan
↓
NON- CASH CONSIDERATION
CONSIDERTAION PAYABLE TO CUSTOMER
STEP-4 ALLOCATION OF TRANSACTION PRICE TO PERFORMANCE OBLIGATION
↓
(Para 73)- Fairly depict consideration from each performance obligation on a relative standalone selling price basis except for allocating
–
USE Residual approach only if

Key Point: – Allocate discount before applying RESIDUAL APPROACH
STEP-5 RECOGNIZING REVENUE WHEN PERFORMANCE OBLIGATION FULFILLED
↓
As and when CONTROL is transferred.
TRANSFER OF CONTROL
–
–
KEY NOTE- For OPTIONS, above treatment only if Option is likely to be exercised.
SERVICE CONCESSION ARRANGEMENTS
(Not a property plant and equipment)
(Ex- infra for public service such as Roads, Bridge, Tunnels etc.)
(also known as Build-operate-transfer, rehabilitate-operate-transfer, or public to private service concession agreement)
Key Point- If Operator performs >1 service such as Construction or upgradation and operation service) under a SINGLE contract, Consideration must be allocated to relative fair values of service delivered.