Trademark agents or attorneys are licensed verified professionals who offer comprehensive legal inquiries regarding trademark filings, registrations, and appeals.
In order to maintain brand representation, it is important to clarify the checks that are accompanied by a trademark register, which are called brand representative checks. A company secretary receives the privilege of a brand agent exam.
What is meant by the Term Trademark?
Trademarks are a branch of intellectual property rights. Intellectual property rights allow individuals to retain ownership of their innovative products and inventive moves. The types of intellectual property are trademark law, copyright law, patent law, and design law.
A trademark consists of a name, word, or sign that varies between the goods of different companies. Marketing of goods or services through a process made easier by a brand through product recognition by a brand that is guaranteed and more easily recognizable. An organization or owner can prevent other companies in the same field from using the symbolic mark.
Who can turn to Trademark Agent?
To keep as a Trademark Agent in India, it is important to pass the trademark test. The main qualifications to take the exam are stated in the Trademark Act 1999.
On the other hand, while those who have passed the trademark agent exam follow trademark rules, lawyers can register under the Lawyers Act 2002 and qualified company secretaries, ICSI members, to serve clients in India trademark registration for trademark registration along with relevant examples. .
Complete Steps to register as a Trademark Agent through CS?
Applications must be made using the specified form, which is called the TMA-1 form. The application must be submitted in triplicate for the stated fee.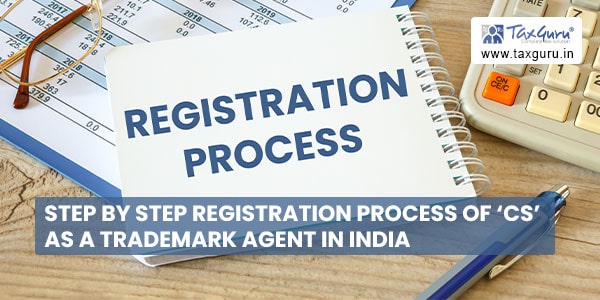 Following are the steps for registering a branding agent through the company secretary:
Step 1. Visit https://ipindia.gov.in/
Step 2. Post go to the above link (website), open a comprehensive e-delivery service or go directly to https://ipindiaonline.gov.in/trademarkefiling/user/frmloginnew.aspx
Step 3. Now, post the candidate's need to tap on new users? Register
Step 4. Before registering, read and download the digital signature guide
Step 5. The last part comes, ie. "Registration form for new users"
Step 6. Choose the type of Applicant Proprietor
Step 7. Enter the code and continue to open the tab
Step 8. Add candidate information to the form
Important note: In this step, read the Digital Signature Guide before registering the DSC (Digital Signature Certificate) In the last step, user data is sent via tip to the candidate's email ID. Then go to the portal and fill in the TMA-G form from CS.
Upload documents such as membership certificate and COP certificate with the app.
Rs 4500 is the registration fee that the applicant has to pay at the time of registration. After completing these steps, the applicant must obtain a trademark representative certificate from the relevant department.