Form 26AS is an Income Tax form that records various transactions that occurred over the course of a fiscal year, such as fiscal year 2022-23.
When we thoroughly understood the Form 26AS, we encountered many fields, including the amount of TDS that was deducted from our wages. Earnings can take the form of the sale of real estate, a wage, lottery winnings, etc.
The amount of income we generated and any TDS provisions that applied to it meant that we had to pay TDS. Your Form 26AS will reflect the amount of TDS that was deducted as well as the section under which it was done so and the total amount of TDS that was deducted.
If you carried out any high-value transactions throughout the year, form 26AS will additionally include a record of such transactions.
Now understanding how to download form 26AS from the TRACES Site:
Step 1: First of all, log in to your Income Tax ID with the help of User ID and Password.
Step 2: After you login, the page will display in front of you where you will be able to see different headings tab such as Dashboard, E-File, Authorised Partners, etc.
Step 3: From these tabs, you have to click on e-file, then after on Income tax returns, and after on view Form 26AS, as also reflected in below image: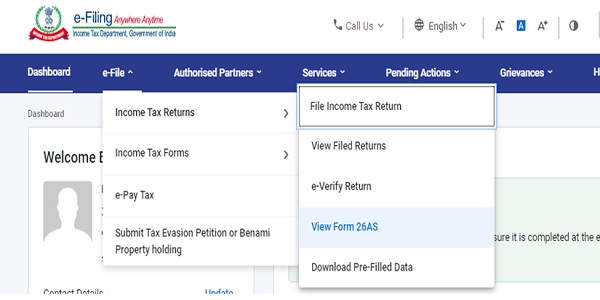 Step 4: After you click on View Form 26AS, the below mentioned dialogue box will appear on that you have to click on "Confirm" and one clicked, the page will take you to an external site where you can see the different inputs which required to be feeded, after that it will reflect you the required year Form 26AS statement in front of you.
In Continuous,
Next, Click View Tax Credit (Form 26AS/Annual Tax Statement) to view your Form 26AS/Annual Tax Statement, as reflected below:
After that, follow the procedure as below in image i.e., select Assessment year and type of view you want to see.
After selecting you can download the form by clicking on 'View/Download' Button and can also see the form below.
So, this is the procedure where how you can download the Form 26AS.