The GSTN (Goods and Services Tax Network) issued an advisory on July 24, 2023, regarding the availability of E-invoicing Exemption declaration functionality. The GST department has initiated the process of sending notices to taxpayers to file E-invoicing Exemption declarations in cases where E-invoicing is applicable due to meeting certain thresholds but is exempted from E-invoicing generation. To assist you in this process, please follow these steps:
Steps to file E invoicing declaration on GST portal
Step 1: Log In
Visit the GST portal at https://einvoice.gst.gov.in/einvoice/dashboard and log in using your GST portal credentials.
Step 2: Access E-Invoicing Exemption Declaration
Once logged in, locate and click on the "E-Invoice Exemption Declaration" option. This will take you to the declaration submission page.
Step 3: Select Exemption Category
On the declaration submission page, you will be prompted to select the applicable category for exemption. The categories for exemption are based on the criteria defined by the GST department. Carefully review and choose the category that best aligns with your situation.
Step 4: Submit Declaration
After selecting the relevant exemption category, proceed to submit the declaration. Ensure that all the information provided is accurate and up to date.
Step 5: Download Declaration
Upon successful submission, you can download the E-invoicing Exemption declaration. It's important to keep a copy of this declaration for your records and potential future reference.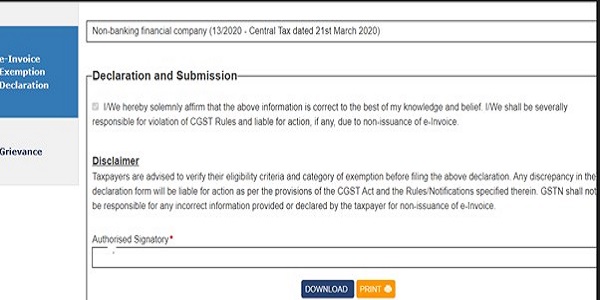 By following these steps, you can efficiently file your E-invoicing Exemption declaration on the GST portal. It's crucial to stay compliant with the GST regulations and meet your tax obligations, ensuring a smooth and hassle-free experience in your business operations.