Government of India
Ministry of Finance
Department of Revenue
Central Board of Indirect Taxes & Customs
North Block, New Delhi-110 001
Tel. : +91-11-23092849, Fax : +91-11-23092890
E-mail : vivekjohri.irs@gov.in
DO No. 18/CH(IC)/2021
04th April, 2022
April is the month of celebrating new beginnings! The wishes for Gudi Padwa, Navratri, Ugadi, Cheti Chand, Navreh & Sajibu Cheiraoba were perhaps made a touch sweeter with heartening news on the revenue front. Last month witnessed an all-time high Gross GST collection, for the Centre & States together, of Rs. 1,42,095 Crore. This is 15% higher than the GST revenues in the same month last year. My deepest appreciation to all the field formations of CBIC for their hard work and perseverance, especially in the last months of the financial year.
With a view towards enhancing compliance through effective & standardized scrutiny of GST returns, the Board has been working towards automating the scrutiny process. Last week, the first tranche of GSTINs selected for scrutiny, on the basis of risk parameters, were shared by the Directorate General of Analytics and Risk Management with field formations. This would not have been possible but for the focused attention and hard work devoted to the project by Member (GST), the GST Policy Wing, Pr. Director General, Directorate General of Systems & Data Management and DG, DGARM and their respective teams. Zonal chiefs may like to have the data examined and suitably taken up as per the prescribed SoP in a time bound manner. They should not hesitate in providing feedback/suggestions for improvement.
An application for scheduling examination of cargo was launched across the country, last week. The application provides a mechanism to stakeholders for scheduling the physical examination of EXIM Cargo by Customs. The project was rolled out on a pilot basis at ICD Tughlakabad and a number of refinements were carried out on the basis of feedback received. My compliments to Pr. Director General, Directorate General of Systems & Data Management as well as Chief Commissioner, Customs, Delhi Zone and their respective teams for the roll out of the said application.
The week saw the launch of two Apps developed by the Thiruvananthapuram CGST, Central Excise & Customs Zone for HR Management and for GST Audit Knowledge Management. The HR Management App called ….. (e-Sevanidhi) has been envisaged for effective HR Management by creating a database of officers working in the Zone including data related to history of postings, educational qualification, previous experience, service details etc.
The GST Audit Knowledge Management, called … (Lekha Samhita) is an application intended for GST audit teams. It is a well-structured repository of identified GST Audit Paras from all GST Audit formations of the CBIC from 2017 onwards alongwith an option to on-board State Audit Formations as well. The digital collaborative knowledge base ensures an exhaustive checklist of identified sector wise / subsector wise issues for the benefit of GST Auditors. My sincere Congratulations to Chief Commissioner, CGST, Central Excise & Customs Zone, Thiruvananthapuram and his team of officers for their excellent initiative.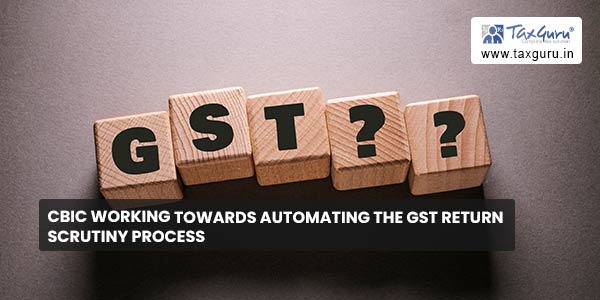 Last week, officers of CGST Gurugram (Audit) Commissionerate detected a case of non­payment of tax by a taxpayer on supply of R&D services. The quantum of the evasion is estimated to be in excess of Rs. 75 Crores. An amount of Rs. 26.55 Crore has already been deposited by the assesse. Congratulations to the officers for an excellent detection and prompt action for effecting recovery of the tax.
I had the opportunity to interact with probationers of the 73rd Batch of IRS (C&IT) officers as they begin their training in NACIN, Faridabad. This would perhaps be the last batch getting training in Faridabad and the first to pass out of the upcoming NACIN Campus in Hindupur. My best wishes to them for a successful and satisfying career.
The week also saw us bid farewell to two of our senior colleagues, Sh. APS Suri of the 1985 Batch and Sh. R. Manga Babu of the 1988 Batch who superannuated after putting in 37 and 34 years of service, respectively. On behalf of the Department, my sincere thanks to them for their outstanding service and best wishes for their second innings.
Sh. Sanjay Kumar Agarwal has assumed charge as Member in the Board. I extend a very warm welcome to him and wish him a very successful & fulfilling stint here.
As I sign off this week, I would like to congratulate officers promoted as Pr. Chief Commissioners/Pr. Directors General, who have now been placed, and wish them all the best in their forthcoming assignments.
Till next week!
Yours Sincerely,
(Vivek Johri)
All Officers and Staff of Central Board of Indirect Taxes & Customs