Payment is a Critical Phase in International Trade Transactions. To succeed in today's global marketplace and win sales against foreign competitors, exporters must offer their customers attractive sales terms supported by appropriate payment methods.
Because getting paid in full and on time is the ultimate goal for each export sale, an appropriate payment method must be chosen carefully to minimize the payment risk while also accommodating the needs of the buyer.  During or before contract negotiations, you should consider which method is mutually desirable for both buyer (Importer) and seller (Exporter).
Concerns of the Parties in International Transactions :
Seller (Exporter)
> Receiving the Payment in Full & in Time
> For Exporter any Sale is a Gift unless Payment is Received
> Therefore, Exporter want to Receive Payment as soon as possible, Preferably along with the Placing of Order or Before Shipment of Goods
Exporter's Concerns about Payment
> Buyer going Bankrupt and Unable to Pay
> Deliberately Refusing to Pay for Goods
> Refusing to Accept Goods After Shipment
> Raising Disputes and Demanding a Discount
Buyer (Importer)
> Receiving the Goods as Required & in Time
> For Importer any Payment is a Donation until the Goods are Received as Required
> Therefore, Importer want to Receive Goods as soon as possible, and Prefer Longer Credit Terms and Delay Payment as long as Possible and until the Goods are Received and Resold to Generate enough Income to Pay the Exporter.
Importer's Concerns about Goods
> Agreed Quantity,
> Agreed Quality,
> Packed Properly
> Insured against the Normal Risks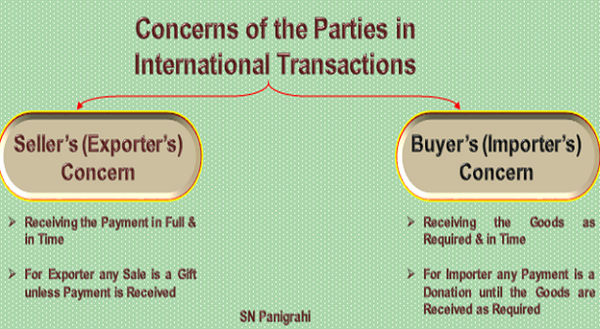 Risks in International Trade
Business Risks
Any event that prevents the buyer from paying or prevents the seller from delivering the product or service
> Market Risks
> Bankruptcy or Insolvency by the Buyer
> Protracted Default – Refusal to Pay
> Problems with Payment Arrangements
> Force Majeure Event, Failure to Perform
> Problems with the Merchandise – Movement; Quality Related; Damages; Malfunctioning
> Contract Disputes – Non-Acceptance – Insurance
Country Risks
Any event or unforeseen factor not necessarily within control of the buyer and/or exporter caused by cross border issues
> Political Risks (Force Majeure – War, Revolution, Confiscaton or Expropriation)
> Regulatory Risk
> Government or Political Intervention
> Socio – Ethnic Issues
Currency & Credit Risk
Any Unforeseen Situations Related to Currency & Payment – Beyond the Business & Country Risks
> Problems with Currency Exchange
> Exchange Control
> Currency Exchange Rate Fluctuations
> Problems Related to Banking Instruments
> Additional Costs for Financing, Insurance, and Shipping
Counterparty Risk
Buyer and Seller
> Are geographically separated
> Not known to each other
> May talk different languages
> Subject to different legal and political systems
> Live in different currency areas
 Four Basic International Payment Methods
Commonly in the International Trade following Four Payment Methods are used
Open Account
Documentary Collection
 – D/A
 – D/P
Letters of Credit
L/C (Time)
L/C (Sight)
Payment in Advance
Selecting Payment Methods
Before selecting suitable Payment Methods, following Questions should be clearly get answers to understand Business / Market Compulsions, Customer Demands, Market Practices, Risk and Financial Capability etc… etc…
> Can your business afford the loss if it is Not Paid? (Business Loss)
> Will extending credit and the possibility of Waiting Several Months for Payment still make the sale profitable? (Cost of Credit)
> Whether enough Working Capital Available for Running the Business? (Cash Flow Cycles)
> Can the sale be made only by Extending Credit? (Business Payment Terms)
> How long have the buyers been operating, and what is their Credit History? (Business Credentials)
> Has your business sold successfully to the buyer before? (Past Experience)
> Are there reasonable alternatives for collecting if the buyer does not pay? (Bad Debt Recovery Options)
> Does the buyer's country have the legal and business infrastructure for settling disputes fairly and swiftly? (Country Risks & Dispute Resolution)
> If shipment is made but not accepted, can alternative buyers be found? (Re-Sales or Sales Return Options)
Payment Methods : Risk Comparison
For better understanding and accordingly select appropriate method of Payment following diagram depicts risk comparison
For more details, please see the You Tube @ the following Link
https://www.youtube.com/watch?v=Y4dtj1dj6UY&t=185s
Disclaimer : The views and opinions; thoughts and assumptions; analysis and conclusions expressed in this article are those of the authors and do not necessarily reflect any legal standing.
Author : SN Panigrahi, GST Consultant, Practitioner, Corporate Trainer & Author
Can be reached @ [email protected]