THE CONTEXT:
-Prime Minister Modi had announced an ambitious target of a $5 trillion economy for India by 2024. If achieved, India will become the third-largest economy in the world.
-The focus is on boosting services sector contribution to $ 3 trillion, manufacturing to $ 1 trillion and Agriculture to $ 1 trillion.
-However, the recent economic slowdown has made critics question the ambitious target.
While delivering his 6th consecutive Independence Day speech from the ramparts of Red Fort, Hon'ble Prime Minister of India, Shri Narendra Modi ji, On 15th August 2019, expressed confidence that India would be a $5-trillion economy in 2024.
More recently, while addressing a gathering of leaders from the Corporate World, Diplomats and others, at the centenary meet of ASSOCHAM in New Delhi on 20.12.2019, the Prime Minister said that the idea of making India a 5 Trillion Dollar worth economy is not a sudden one.
"In the past five years the country had made itself so strong that it not only could set for itself such a target but also make efforts in that direction" he said. While speaking at this occasion he also listed out the allegations that were hurled at his team, but he is committed towards a new India.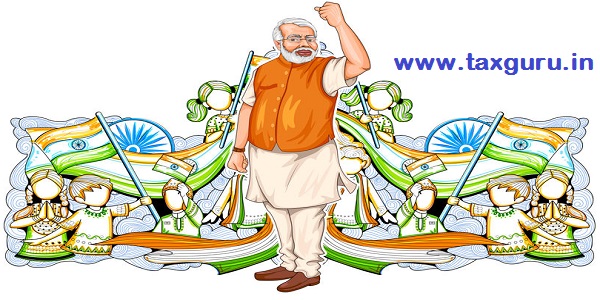 Earlier, in July 2019, the Economic Survey laid out a blueprint for $5 Trillion Indian economy. The Economic Survey 2019 presented by Chief Economic Adviser (CEA) Krishnamurthy Subramanian focusses on moving to a "virtuous cycle" of savings, investments and exports to transform India into a $5 trillion economy in the next five years.
Though the Vision is laudable, the growth figures do not excite a lot. India's economy expanded by just 4.7% between July and September, it's seventh consecutive quarter of slowing growth. The country's GDP was growing by more than 9 percent at the start of 2016, and by 8.1 percent as recently as early 2018. Further, the number of agencies revising India's growth estimate is increasing, with the latest being the International Monetary Fund (IMF). Most recently, The International Monetary Fund cut it's estimate for India's growth this year to 4.8% from earlier projection of 6.1% which was also revised from the earlier 7% projected in July, calling on the country to use monetary policy and broad-based structural reforms to address cyclical weakness and strengthen confidence. Citing a sharper-than-expected slowdown in local demand and stress in NBFC sector, the agency in it's latest World Economic Outlook said, "The growth markdown largely reflects a downward revision to India's projection, where domestic demand has slowed more sharply than expected amid stress in the non-bank financial sector and a decline in credit growth."
The markdown has been the highest for India in the latest WEO projections.
In this context, many critics have questioned the feasibility of India achieving $5 Trillion Economy status by 2024. 
WHAT IS A $5-TRILLION ECONOMY?
Before we move forward, lets understand the term clearly:
The GDP of an economy is the total monetary (rupee) value of all goods and services produced in an economy within a year. GDP is the deciding factor among economies (countries)as to who is the largest and so on.
In 2014, India's GDP was $1.85 trillion. In 2019, it is $2.94 Trillion, and India is the fifth-largest economy in the world.
The $5-trillion economy is the size of a national economy as measured by the annual Gross Domestic Product (GDP). If achieved, India will become the third-largest economy in the world.
Apart from the monetary definition, a $ 5 Trillion Economy calls for pulling all the economic growth levers—investment, consumption, exports, and across all the three sectors of agriculture, manufacturing and services.

COMPARISON WITH MAJOR ECONOMIES OF THE WORLD
Though India is the fifth-largest economy, but this does not necessarily mean that Indians are the fifth-richest people in the world! If one wants to better understand the wellbeing of the people in an economy, one should look at GDP per capita.
GDP per capita reveals a very different, and indeed a more accurate picture of the level of prosperity in the respective economy.
For example, while the GDP of India and UK is nearly the same, a UK resident's income was almost 19 times that of an average Indian in 2018. Also, the GDP of Indonesia is less than India, GDP per Capita of Indonesia is almost double than that of India.
Look at GDP per capita chart below for better understanding:
GDP and GDP per capita
| | | | |
| --- | --- | --- | --- |
| S.no | Countries | GDP $ Trillion (in 2019) | GDP per Capita in $ (in 2019) |
| 1. |  India | 2.94 | 2171.6 |
| 2. |  United States | 21.44 | 65,111.6 |
| 3. |  China | 14.14 | 10,098.9 |
| 4. |  Japan | 5.15 | 40,846.8 |
| 5. |  United Kingdom | 2.74 | 41030.2 |
| 7. |  Germany | 3.86 | 46,564.0 |
| 8. |  Indonesia | 1.11 | 4,163.8 |
CONTRIBUTION OF DIFFERENT SECTORS IN ACHIEVING THE GOAL OF $5 TRILLION ECONOMY
Service Sector is the largest sector of India. Gross Value Added (GVA) at current prices for Service sector is estimated at 92.26 lakh crore INR in 2018-19.  Service sector accounts for 54.40%, Secondary sector (comprising manufacturing, electricity, gas, water supply & other utility services and construction) account for 27.03 % while the Primary Sector (comprising agriculture, forestry, fishing and mining and quarrying account for 18.57 % of total India's GVA
Primary Sector
Investment is the key for the flourishment of areas like agro-processing, and exports, Agri-startups and Agri-tourism, where the potential for job creation and capacity utilisation is far less.
Investment needs to be driven to strengthen both public and private extension advisory systems (educating farmers about technology and management practices).
It would also serve as a stage to demonstrate resource conservation and sustainable use through organic, natural and green methods, and also zero budget natural farming.
India has the highest livestock population in the world, investment should be made to utilise this surplus by employing next-generation livestock technology. This would lead to a sustained increase in farm income and savings with an export-oriented growth model.
Investment in renewable energy generation (using small wind mill and solar pumps) on fallow farmland and in hilly terrain would help reduce the burden of debt-ridden electricity distribution companies and State governments, besides enabling energy security in rural areas.
A farm business organisation is another source of routing private investment to agriculture. Linking these organisations with commodity exchanges would provide agriculture commodities more space on international trading platforms and reduce the burden of markets in a glut season, with certain policy/procedural modifications.
Manufacturing Sector
A three-pillar strategy has been suggested to achieve required expansion of output — focus on existing high impact and emerging sectors as well as MSMEs.
To boost electronics manufacturing, it said the government should consider offering additional fiscal incentives such as a limited-period tax holiday to players investing more than an identified threshold of investment.
Similarly, for the auto and auto–components sector, it recommended encouragement of global leaders for the identified components to set up manufacturing bases, and incentivising players willing to invest more than a threshold in identified areas.
The report suggested measures to boost manufacturing in other areas including aeronautical, space, garments, organic/ayurvedic products besides emerging areas such as biotechnology, electric mobility, unmanned aerial vehicles, medical devices, robotics and chemicals.
For micro, small and medium enterprises, the working group said there is a need to improve access to funding by way of development of SME credit risk databases, SME credit rating, and creation of community-based funds.
Service Sector
Services sector include improving rail connectivity and seamless connectivity to major attractions; facilitating visa regime for medical travel; allowing expatriate professional to perform surgeries in identified hospitals; and e-commerce policy and regulatory framework for logistics segment.
This sector contributes significantly to India's GDP, a goal of around 60 % contribution of services sector has been envisaged for 2024. Exports and job creation, increased productivity and competitiveness of the Champion Services Sectors like IT, tourism, medical value travel and legal will further boost exports of various services from India.
The Commerce Minister has identified 15 strategic overseas locations where the Trade Promotion Organisations (TPOs) are proposed to be created.
Multi-Modal Logistics Parks Policy (MMLPs) aims to improve the country's logistics sector by lowering over freight costs, reducing vehicular pollution and congestion and cutting warehouse costs with a view to promoting moments of goods for domestic and global trade.
In the defence sector, there is a need to identify key components and systems and encourage global leaders to set up manufacturing base in India by offering limited period incentives; and ensure incentives result in technology/process transfer.
To promote growth of accounting and financial services, there is a need to FDI in domestic accounting and auditing sector, transparent regulatory framework, and easing restriction on client base in the accounting and auditing sector.
Measures like exploring introduction of insurance in the film industry, promoting private investments in film schools, exploring franchise business models to exploit film franchise, and promoting gaming industry value chains aims to push audio visual services.
Foreign universities are allowed to set up campuses in India, easy visa regime for students and education service providers, removing regulatory bottlenecks, providing recognition of online degrees and setting up appropriate evaluation techniques for online courses for the education sector.

INITIATIVES UNDERTAKEN FOR ACHIEVING $5 TRILLION ECONOMY TARGET
The Government is working hard to realise Prime Minister Narendra Modi's dream of making the country a five trillion-dollar economy by 2024 and has taken steps to overcome the phase of economic slowdown. The nation is witnessing a new sense of dynamism and a number of initiatives are being taken in line with Modi's vision of 'New India'. Principal Secretary to the Prime Minister Pramod Kumar Misra recently said that while several fundamental and path breaking reforms have been undertaken in the form of Insolvency and Bankruptcy Code and GST, continuous opening up and liberalisation of FDI have resulted in unprecedented inflows of FDI into the country. On December 13, Finance Ministry unveiled a detailed presentation on steps taken to boost economy. Chief Economic Advisor Krishnamurthy Subramanian said the government is focusing on increasing consumption to boost economic growth. Presenting steps taken by the government in the past few months to pull the economy out from a six-year low growth, he said the measures include corporate tax cuts to improve risk-return of companies.
Here's a list of all measure announcements that were made:
1. Economic survey outlined a plan to make India $5 trillion economy with emphasis on driving up investment. On the consumption side, the government has taken steps to help the NBFCs and HFCs.
2. The govt provided support to NBFCs/HFCs under the partial credit guarantee scheme. The govt sanctioned support for Rs 4.47 lakh crore to NBFCs & HFCs which includes Rs 1.29 lakh crore for pool buyout of assets.
3. Within two days of cabinet approval, 17 proposals worth more than Rs 7,000 crore approved. Proposals worth Rs 20,000 crore will be approved over next two weeks under the partial credit guarantee scheme.
4. On investment side, the government has taken steps to boost investment, support real estate, credit expansion, corporate tax and bank recapitalisation.
5. To boost liquidity in the market, the government has cleared dues worth more than 60% of 32 CPSEs in the last two months.
6. Under the new external benchmarking scheme announced by the RBI, more than 8 lakh or Rs 72,201 crore worth of loans sanctioned under the new regime till Nov 27.
7. 66% of Budgeted capex expenditure of Rs 3.38 lakh crore has been taken so far. Higher government capital expenditure allows crowding in of private investment. April-Nov capex of 32 CPSEs is at Rs 98,000 crore. Railway and road ministries will have undertaken capex of Rs 2.46 lakh crore by December 31, he said.
8. Rs 60,314 crore of capital has been infused into PSU banks. Lenders have disbursed Rs 2.2 lakh crore to corporates and Rs 72,985 crore to MSMEs.
9. FDI inflows of $35-billion in first half of FY20 vs $31 billion in the same period last year has been achieved.
10. Rs 1.57 lakh cr tax refunded this year vs Rs 1.23 lakh cr last year: Revenue Secretary. The step will boost consumption in economy. Income tax refund up 27% so far in FY20.
11. Realty fund of Rs 25,000 crore has been created for last mile funding for stalled projects. Necessary changes in IBC made to allow projects facing insolvency to avail funds under scheme.
12. Unified regulator for international financial services enables capital flow without any hurdles.
13. Important changes in IBC: Ringfencing successful bidders of stressed assets from prosecution.

WAY FORWARD 
Going forward what steps can Government take to get closer to its target, Niti Ayog CEO Amitabh Kant recently outlined these steps.
1. Increase Ease of Business and Ease of Living to promote private investments
Over the last four years, the government has scrapped over 1,300 antiquated law! It has done away with a lot of archaic procedures, rules and regulations.
Through a series of reforms, India has jumped up 65 positions in The World Bank Ease of Doing Business. No other large country has been able to do this. India has jumped up 65 positions, but our challenge is that in the next two years India must reach the top 50 and in the next five years reach the top 25.
2. Urbanization – a big driver of growth
Cities account for less than 5% of the earth land mass, but they account for over 75 % of the global GDP! So, Urbanization in cities is important as they are centres of economic growth.   While the process of urbanization has ended across America and Europe, and matured in China, it has just begun in India. In the next 5 decades, India should see more Urbanization than what we've done in the last 500 years. While there will be many challenges, India needs more Urbanization to grow rapidly.
3. Globalization for growth
India exists in a globalized and interdependent world. Like in Japan, Korea and China, Globalization has helped large sections of population to be lifted above the poverty line. India's share in global export is less than 2%. So, India must learn the art of size and scale, of manufacturing to size of scale and to penetrating.
4. Women Participation is key
India cannot grow at high rates over a 3-decade period without gender parity. In India, only 26% of the women work; the worldwide average is 48%. If such a major chunk of the population is not working and we consciously don't put women into positions of power, it will be very difficult for India to grow.
5. Agriculture Reforms in vital
It's not possible to grow over long periods of time without some very major structural reforms in the agriculture sector because that's where close to 60% of India lives. You can't keep growing on subsidies, you can't keep going on just giving assistance to farmers without ensuring better markets, without putting technology, without contract farming and so on. Agriculture sector reforms are critical.