ATITHI Mobile App for International Travelers
ATITHI is a Central Board of Indirect Taxes and Customs (CBIC), Ministry of Finance, Government of India mobile app for international travelers to file the Customs declaration in advance. Passengers can use this app to file declaration of dutiable items and currency with the Indian Customs even before boarding the flight to India. It is available on both iOS and Android.
ATITHI app ensures access at any time, from anywhere and also makes it easier for the passengers to access the Customs duty information. In addition to that, it also supports the faster Customs processes and provides multiple application support that fits the requirements of the users.
ATITHI App can be used by all the travelers including Indian residents as well as foreign nationals those who are arriving in India by air across the globe.
To avail the facility, one needs to sign up in the mobile app-ATITHI @ Indian Customs-by simply entering passport number, name, nationality, address as on the passport, mobile number and e-Mail. Once a passenger signs up and choose a password, he/she can login by entering passport number as user ID and entering the password.
The technology is key to improving governance in today's times and the Department is getting more and more IT savvy with an aim to further improve the ease of doing business. The ATITHI app will facilitate hassle free and faster clearance by Customs at the airports and enhance the experience of international tourists and other visitors at our airports. This will reduce interface and increase transparency of Customs functioning. It would in particular create a tech savvy image of Indian Customs and would encourage tourism and business travel to India.
In case of any query or feedback for the application, USER may use the feedback feature of the application, mail to ebr.dgsystems@icegate.gov.in or visit www.cbic.gov.in.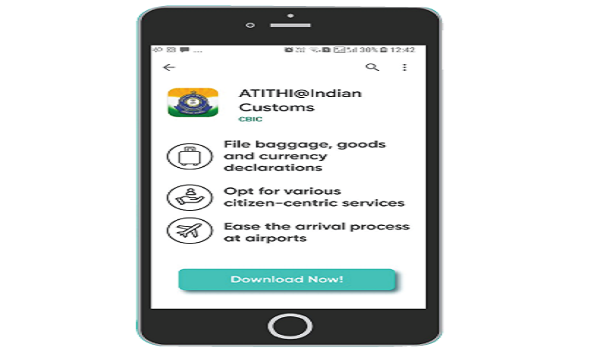 (Republished with amendments)