MSME Samadhaan Portal – Ease of filing application under MSEFC, an Initiative from Ministry of MSME, Govt. of India
Related Provision
The Micro, Small and Medium Enterprise Development (MSMED) Act, 2006 contains provisions of Delayed Payment to Micro and Small Enterprise (MSEs). (Section 15- 24). State Governments to establish Micro and Small Enterprise Facilitation Council (MSEFC) for settlement of disputes on getting references/filing on Delayed payments. (Section 20 and 21)
The MSMED Act, 2006 specifies 45 day credit period for the recipient of any goods or services to pay to the MSME supplier. It is included to protect the interest of the MSME business. … It enables them to directly register their cases about delayed payments by Central Ministries/Departments/CPSEs/State Governments.
The Micro, Small and Medium Enterprise (MSME) launched MSME Samadhaan portal to make it easy excess for the MSMEs.
Nature of assistance
Micro and Small Enterprises Facilitation Council (MSEFC) of the State after examining the case filed by MSE unit will issue directions to the buyer unit for payment of due amount along with interest as per the provisions under the MSMED Act 2006.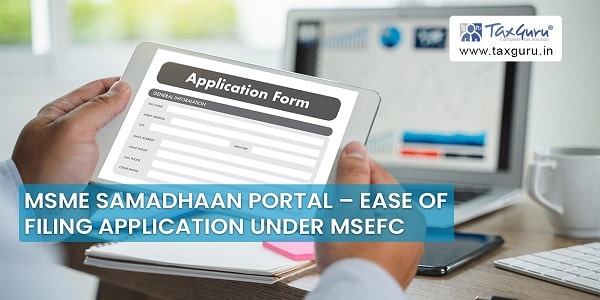 Who can apply?
Any Micro or Small enterprise having valid Udyam Registration (earlier UAM/Udhyog Adhar no.) can apply.
Salient Features
The buyer is liable to pay compound interest with the monthly rates to the supplier on the amount at the three times of the bank rate notified by RBI in case he does not make payment to the supplier for his supplies of goods or services within 45 days of the acceptance of the goods/service rendered. (Section 16)
State Governments to notify (i) Authority for filing Entrepreneur Memorandum (ii) Rules of MSEFC and (iii) Constitution of MSEFC.
All States/UTs have notified Authority for Filing Entrepreneur's Memorandum, 33 States/UTs (i.e. except Arunachal Pradesh, Assam and Manipur) have Notified rules of MSEFC and all the 36 States/UTs have constituted MSEFCs, as per provisions laid down under MSMED Act 2006.
Every reference made to MSEFC shall be decided within a period of ninety days from the date of making such a reference as per provisions laid in the Act.
If the Appellant (not being the supplier) wants to file an appeal, no application for setting aside any decree or award by the MSEFC shall be entertained by any court unless the appellant (not being supplier) has deposited with it, the 75% of the award amount. (Section 19)
Process for filing case on Samadhaan Portal
1. Visit https://samadhaan.msme.gov.in
2. Click on Case filing Entrepreneur/MSME unit tab
3. You can login with Udyog Aadhaar Number or Udyam Registration Number
4. Then add your registered Mobile no. and validate with OTP.
5. Fill up details of MSME like, E-mail, Amount payable, Buyer details, PAN details etc.
6. Documents required
Work orders of Respondent
Invoices generated by you against those work orders
7. Give the confirmation that the all details filed by you is true and correct.
After Filing Case you can check the status of your case at Check Case Status tab after following below mentioned steps:
1. Enter valid User Id OR valid Case no.
2. Enter valid verification code as given in Captcha image.
3. Verification code is not case sensitive.
4. Click on Login button
Once you login with valid credential you will be redirected to your Dashboard where multiple action can be done.
The content of this article is intended to provide a general guide to the subject matter. Specialist advice should be sought about your specific circumstances.