With demonetization, long ATM queues are the common view currently. Kiss them goodbye and welcome the new PhonePe, a mobile payment app based on the Government-Backed Unified Payment Interface (UPI) platform. The app is absolutely cool, convenient and hassle-free. And even better, it's FREE!
If you haven't heard of PhonePe yet, here's what you are missing. A cashless digital payments economy is the forthcoming future and luckily PhonePe app is at the forefront of this revolutionary change.
More about PhonePe App
PhonePe is a digital payment application, one of the best app built for Android smartphones on UPI (United Payments Interface) that allows you to connect your bank account to the app and use it for digital payments to fulfill your wishes at various times. Launched in partnership with YES Bank, PhonePe allows you to link bank accounts securely to your smartphones through encrypted software of National Payments Corporation of India. It is the most secure payment platform in the country and offers direct bank-to-bank transfers using recipient's mobile numbers.
How to Use PhonePe
You can now download the app from the Google Play Store and use it as an Online Wallet to handle all your monetary transactions.
PhonePe Features:
1. PhonePe is among India's first UPI App
This cool App is based on the Government-backed Unified Payment Interface (UPI) platform.
What is UPI, Your next question, right?
Well, UPI is built over the IMPS (Immediate Payment Service) infrastructure that allows you to transfer money between two parties bank account by using identifiers like mobile number or a unique payment address (VPA) without using the account numbers or the IFSC codes. Because of this, sending or receiving money becomes easy. You just have to enter the receiver's mobile number/VPA and send him/her money instantly into his/her bank account, that's it!
2. No need to exchange Bank details
PhonePe app is linked and live with 30 major banks on the UPI platform such as State bank of India, HDFC Bank, ICICI Bank, Standard Chartered Bank and more. When you link your bank account to your PhonePe app, all you need is to share and verify your mobile number and bank name, and the UPI will retrieve the account details from your bank over a secure network.
FYI: If your bank account is not live with UPI, you cannot add your bank account to the PhonePe app.
3. Say Good-bye to multiple Authentication Methods
Using the PhonePe UPI App, you can send and receive money instantly using a VPA (Virtual payment address) and mobile phone number. This means you can also transfer money between any two bank accounts. You can also make direct transactions from your bank account both online and offline. The best part is, you don't need to enter credit or debit card details, a one-time password (OTP), your bank's IFSC code or any other details. Transferring and receiving money has become easier than ever before with PhonePe app!
4. Don't take trouble of Topping up your Wallet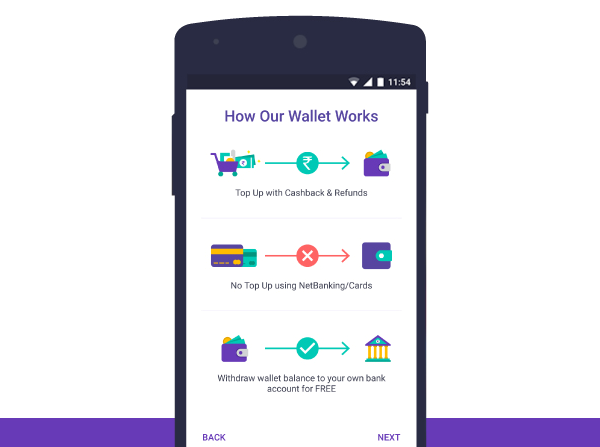 The other good thing about the PhonePe app is you don't have to load funds into your wallet. Rater you can now make payments from your bank account by using just your registered mobile number or a virtual ID. This means you don't have to worry about running out of balance or going through the whole process of topping up your wallet before your transaction unlike the other E-Wallets.
5. Bill Payments, Recharges and Money Transfers made easy through PhonePe
Now use your PhonePe app to pay your postpaid and utility bills as well recharge your prepaid mobile number, data card and DTH. You can also send and request money from your loved ones by just entering their number, name or VPA. Want to treat your friends while watching a movie? With PhonePe app, you can do that too! Also you can check your bank account balance or scan QR codes to pay.
6. PhonePe app, Safe, Secure and Free
The PhonePe app allows you to make transactions free of cost. It is 100% safe and secure powered by Yes Bank. All the payments happen over a secure banking networks and the app doesn't not store any data of the users neither the passwords. All you need to do for every transaction is enter your MPIN (which only you know). Make sure that you never share your MPIN with anyone.
7. Easy Limits and Validity
Using the PhonePe app, now you can easily make big transactions. The transaction limits are higher – you can transact 30L/month as compared to 20K for the other wallets.  You are allowed to spend a maximum of Rs One Lakh per transaction. In addition, you can enjoy a long validity of your wallet balance. If you transact at least once in two years, be assured that your PhonePe wallet will be active and the balance will not expire.
PhonePe app Highlights:
High Transaction Limit (Rs.30Lakh/month and transaction limit of Rs.1lakh/day)
NO Top-up required
Lifetime Zero Fee
Only Recipients mobile number required
Secure as ATM (the MPIN is known by only you just like your ATM pin)
How to get started
PhonePe app is currently available for the Android users. The users can directly download the app from Google Play Store and install in your device.
Need to go through some steps before getting started, as follows:
Open the app and verify your mobile number (your registered mobile number should be same as the one registered with your bank account)
Enter your name, email address and set a 4-digit password and activate your wallet.
In the next step, click on "Create New VPA"
Link your bank account to the app by selecting your bank, and the app will automatically fetch the details.
Confirm your bank details and start using the PhonePe app to send or receive money or transact online with comfort.
Download the PhonePe app from here:
App download link: https://play.google.com/store/apps/details?id=com.phonepe.app&hl=en
If you haven't download this amazing app yet, then do it right away! You can also get 100% cash back on your first UPI transaction!
Go Cashless Go Secure!!