Meditation is a very simple process, all that you need to know is the right button. The upnishads call it "Witnessing"- the right button. Just witness your mind process. Don't do any thing at all. Nothing needs to be done, just be a witness, an observer, a watcher, looking at the traffic of the mind – thoughts passing by desires, memories, dreams, fantasies, simply stand aloof, cool, watching it, seeing it, with no judgment, no condemnation, neither saying, " This is good ", nor saying " This is bad ". Don't bring your moral concepts in otherwise you will never be able to meditate. Sit alone and keep eyes closed and watch where the mind moves. Control your thoughts and control your thoughts. Just leave thinking of the world. Just watch the mind. Mind goes, moves to fulfill the desires, to do the responsibilities. Again control the mind and think of the people who attained full control on the mind. Just watch where our mind goes. May be it will go thinking of your teacher, your boss, your friend, your spouse, your staff, it will go to financial concepts, leave all as nothing is permanent. You will leave your boss one day.You are thinking of alcohol which you take every day but one day alcohol will kill you. Just think what is permanent. Permanent is you and you. Nothing other than you. The day you start to thinking that way ; your desires will be reduced. You will start feeling good at home and office. To control the mind is the most difficult process but start of it gives relief and control start immediately when you sit for meditation. It may take years or even births but start it and do regularly. This is also realization of ourselves and for what purpose the soul of me has taken birth in the form of human creature.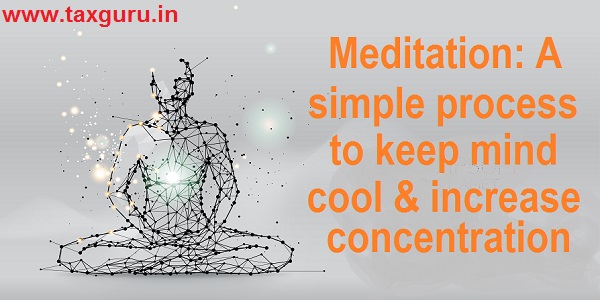 Sit by the side of a river and watch the river flowing. Yes, sometimes drift wood passes by and sometimes a boat comes and sometimes a dead body and sometimes a beautiful woman may be swimming in the river – you simply watch, You don't get bothered, you remain cool, you don't get excited. You are not supposed to do any thing, you have nothing to do so. It is the river and it is the river's business. You simply sit silently. sitting silently, slowly slowly the art is learnt and one day your watchfulness is total, the mind evaporates like steam from hot water. It leaves evil thoughts, desires, bad karma and lust of worldly affairs. It starts to behave differently. This the day when you realize body and soul is different. Body has to depart one day and soul is ultimate, never to die.
Meditation can bring you to nature. It can help you to all the perversions. It can make you intelligent. It can make you loving. It can make you spontaneous. It can make you responsible. It can make you a benediction to your self and to existence. Except meditation there is no other method which can help. This the key, the master key.
All Chartered Accountants, Advocates, Scientists, Engineers, Doctors should practice daily process of meditation. Living example is when an advocate/CA /Professional meditates and this comes to his mind how to prepare the case of the client. Good thoughts start to coming to his mind, way how to prepare the case comes to his mind. Meditation can be enjoyed this way also.