Every Income Tax, GST and any other work related to taxation is done through computer device. Some tax consultants are well versed with their subjects and also known  to do the work using computer technology. We all should be  known some related terms of Computer language in daily usage.
Pen Drive
The definition of a pen drive is small storage device shaped like a pen with built-in data storage that connects to a computer by a USB port. A small electronic device used to store digital data, more portable and robust than a hard drive.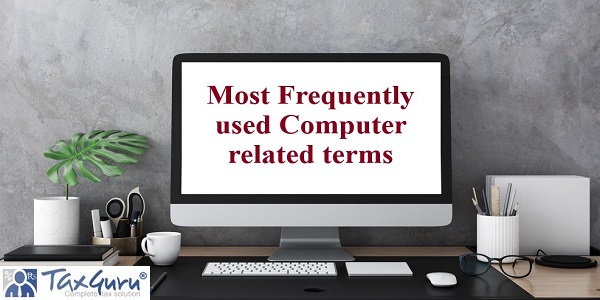 CPU
Alternately referred to as a processor, central processor, or microprocessor, the CPU (pronounced sea-pea-you) is the central processing unit of the computer. A computer's CPU handles all instructions it receives from hardware and software running on the computer. As an example, the CPU processed the instructions to use a web browser to open and display this web page on your computer.
PDF
PDF stands for "portable document format".  Essentially, the format is used when you need to save files that cannot be modified but still need to be easily shared and printed.  Today almost everyone has a version of Adobe Reader or other program on their computer that can read a PDF file.
Important:  Once you have saved a document as a PDF file, you cannot convert it back to a Microsoft Office file format without specialized software or a third-party add-in.
MotherBoard
A motherboard provides connectivity between the hardware components of a computer, like the processor (CPU), memory (RAM), hard drive, and video card. There are multiple types of motherboards, designed to fit different types and sizes of computers.
Each type of motherboard is designed to work with specific types of processors and memory, so they don't work with every processor and type of memory. However, hard drives are mostly universal and work with the majority of motherboards, regardless of the type or brand.
Below is a picture of the ASUS P5AD2-E motherboard with labels next to each of its major components. Clicking the image directs you to a larger and more detailed version.
HDD
A computer hard disk drive (HDD) is a non-volatile memory hardware device that controls the positioning, reading and writing of the hard disk, which furnishes data storage. Hard disk drives are commonly used as the main storage device in a computer. HDDs often store operating system, software programs and other files, and can be found in desktop computers, mobile devices, consumer electronics and enterprise storage arrays in data centers.
A hard disk drive — often shortened to hard drive — and hard disk are not the same things, but they are packaged as a unit and either term can refer to the whole unit.
In a computer, an HDD is commonly found in the drive bay and is connected to the motherboard via an ATA, SATA or SCSI cable. The HDD is also connected to a power supply unit and can keep stored data while powered down.
Hard disk drive components and how it works
Most basic hard drives consist of a number of disk platters that are positioned around a spindle inside a sealed chamber. The chamber also includes read-and-write heads and motors. The motor is used to spin the platters, which hold the data, at up to 15,000 rotations per minute (a higher rpm number results in faster performance). As the platters spin, a second motor controls the position of the read-and-write heads that magnetically record information to, and read information from, tracks on each platter.
External Hard Disk
An external hard drive is a piece of equipment that can be connected to your computer to increase its storage space. Unlike the hard drive that's installed in your computer, an external hard drive is portable and can also be used to store files from multiple devices.11-Dec-2020
Software
Software is a collection of instructions and data that tell a computer how to work. This is in contrast to hardware, from which the system is built and actually performs the work. In computer science and software engineering, software is all information processed by computer systems, including programs and data.
Hardware
Computer hardware includes the physical parts of a computer, such as the case, central processing unit, monitor, mouse, keyboard, computer data storage, graphics card, sound card, speakers and motherboard. By contrast, software is the set of instructions that can be stored and run by hardware.
1) See USB driveand USB port.
2) (Universal Serial Bus) A hardware interface that supports up to 127 peripherals. USB is used to attach keyboards, mice, printers, external storage and mobile devices to the computer. It is also used for charging portable products (see USB power). Governed by the USB Implementers Forum (see USB-IF), USB emerged in the mid-1990s and soon replaced all earlier ports (see serial port, parallel portand Apple Desktop Bus).
Data storage is the recording of information in a storage medium. Handwriting, phonographic recording, magnetic tape, and optical discs are all examples of storage media. Some authors even propose that DNA is a natural data storage mechanism. Recording may be accomplished with virtually any form of energy.
Key Board
A keyboard is one of the primary input devices that allow users to input text into a computer or any other electronic machinery. It is a peripheral device that is the most basic way for the user to communicate with a computer. It consists of multiple buttons, which create numbers, symbols, and letters, and special keys like the Windows and Alt key, including performing other functions. The design of the keyboard comes from the typewriter keyboards, and numbers and letters are arranged on the keyboard in that way, which helps to type quickly.
Printer
A printer is basically an output device which prints a hard copy of the electronic data that is stored in the computer or any other devices. The electronic data may include documents, text, images or even the combination of all three. Particular printers are available for printing particular data types.
World file in computer
Sometimes called WinWord, MS Word, or Word, Microsoft Word is a word processor published by Microsoft. It is one of the office productivity applications included in the Microsoft Office suite. Originally developed by Charles Simonyi and Richard Brodie, it was first released in 1983.
Micro Soft Excel
Microsoft Excel is a helpful and powerful program for data analysis and documentation. It is a spreadsheet program, which contains a number of columns and rows, where each intersection of a column and a row is a "cell." Each cell contains one point of data or one piece of information.
Tally
Tally is an ERP accounting software package that is used to record day to day business data of a company.  This software can integrate with other business applications like Inventory, Finance, Sales, Payroll, Purchasing, etc. Tally software is used for storing all the business transactions of each account in detail.
Tally Solutions Pvt. Ltd. is an Indian multinational technology company, that provides enterprise resource planning software. It is headquartered in Bangalore, Karnataka. The company reports that its software is used by more than 1.8 million customers.
 XML file
Extensible Markup Language is a markup language that defines a set of rules for encoding documents in a format that is both human-readable and machine-readable. The World Wide Web Consortium's XML 1.0 Specification of 1998 and several other related specifications—all of them free open standards—define XML.
 Java Script
JavaScript, often abbreviated as JS, is a programming language that conforms to the ECMA Script specification. JavaScript is high-level, often just-in-time compiled, and multi-paradigm. It has curly-bracket syntax, dynamic typing, prototype-based object-orientation, and first-class functions.
 Computer
A computer is a machine that can be programmed to carry out sequences of arithmetic or logical operations automatically. Modern computers can perform generic sets of operations known as programs. These programs enable computers to perform a wide range of tasks.
VIRUS
A virus is a sub microscopic infectious agent that replicates only inside the living cells of an organism. Viruses infect all life forms, from animals and plants to microorganisms, including bacteria and archaic. In computer virus is a software which if entered in Network worstly affects the functioning of the computer .
Anti virus
Antivirus software, or antivirus software, also known as anti-malware, is a computer program used to prevent, detect, and remove malware. Antivirus software was originally developed to detect and remove computer viruses, hence the name is Antivirus