Many companies and individuals today compile various business and financial reports in PDFs because they are easy to read and share across all platforms and devices. This goes also for annual financial statements, various forms, and invoices that they send to their accountants.
The main issue for accountants and tax professionals is that they receive those files mostly in electronic form and that they need to manipulate the data from those files. We already know that PDFs are meant to be read-only and not edited, so how to make that data editable then?
Some people opt to convert PDF files online, but this is not the safest thing to do when dealing with confidential business files that can be misused. Others choose to manually re-type or re-enter the data from a PDF file to Word or Excel spreadsheets, and this can be unbelievably dreadful and time-consuming.
Fortunately, there is a secure way to efficiently extract the key information from PDFs to MS Word, Excel and other file formats. The solution is to use a desktop PDF conversion software.
This is where Able2Extract Professional 11 comes into play. It is an all-in-one PDF solution for enterprises or individuals that work with complex PDFs on a daily basis.
Here's a quick summary of the A2E Pro 11 main features:
Available for Windows, MacOS, and Linux,
Secure conversion – no upload to external servers,
Converts PDFs to a dozen of file formats (Word, Excel, PowerPoint, AutoCAD…),
Ability to view, create, edit, redact and annotate PDF files,
Integrates OCR technology which allows for conversion of scanned PDFs,
Supports batch conversion.
PDF to Word
Able2Extract can accurately convert PDF to Word and at the same time preserve the original layout. As it features an integrated OCR technology you can even convert scanned PDFs to fully-formatted Word documents. The software is easy to use and the conversion process is over in under 30 seconds. You can see the before and after photos below.
Before the conversion
After the conversion
PDF to Excel
Although it is able to deal with over 10 types of conversion, A2E Pro 11 is best known for its ability to flawlessly extract tables from PDF to Excel.
Some of the main PDF to Excel conversion features are:
Fast and precise conversion of table data,
Automatic and Custom conversion options,
Preview the output before finalizing conversion,
Set up and save custom conversion templates for future work.
Custom conversion option is what makes Able2Extract stand out from the crowd. With it, accountants can save hours per day when extracting data from PDFs to spreadsheets. Custom conversion allows you to tailor the conversion to your needs. You can make manual adjustments to the rows and columns, add or delete tables, and adjust headers and footers thus determining formatting and table layout as you want.
Furthermore, if you deal with forms and invoices that are always formatted the same you don't have to make those adjustments every time over and over again, you can speed up the conversion process by saving a custom template.
We tested how Able2Extract performs a PDF to Excel conversion and here are the results: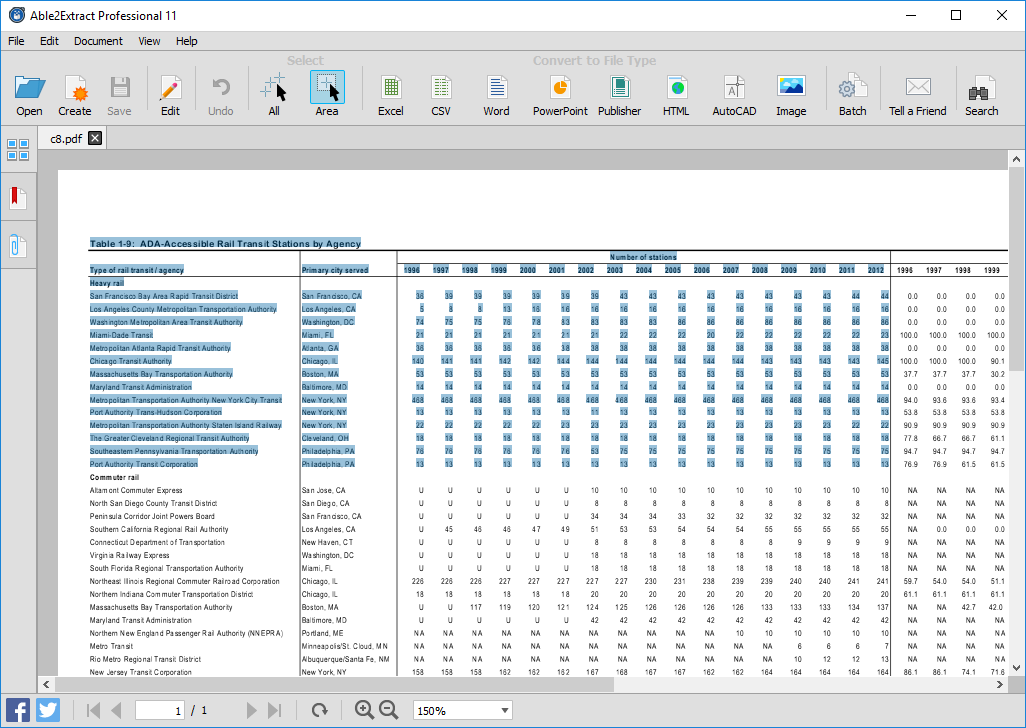 Before the conversion
After the conversion
Verdict: Able2Extract Professional 11 is an accurate and extremely comprehensive solution for managing PDF files. It can come handy especially to accountants and tax professionals who often deal with PDFs that need to be neatly extracted into editable Excel for further analysis and calculations. Able2Extract is available as free seven day trial that you can download here.