Taxpayers have recently faced problems in using the Digital Signature Certificate for Signing through browser at the time of uploading their Income Tax Return. This is because the latest browser versions have started disabling the standard way in which browser support plug-in functions to address security. Hence Java applets that were used by the e-Filing website would not work in the latest versions of Google Chrome, Mozilla or Internet Explorer.
In order to address this issue and to simplify the procedure for uploading Income Tax return (ITR) with Digital Signature Certificate (DSC)a easy to use software utility has been developed which would have to be downloaded in taxpayer's computer and used for signing using Digital Signature Certificate. Refer DSC Management Utility User Manual (use link – https://www.incometaxindiaefiling.gov.in/downloads/dscManagementUtility?lang=eng)
The new procedure is as follows: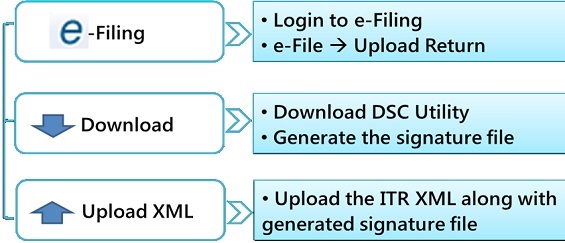 Note: This process would also be extended for non – Income Tax return forms.
Republished with Amendments
Join Taxguru's Network for Latest updates on Income Tax, GST, Company Law, Corporate Laws and other related subjects.
Join us on Telegram
GROUP LINK
Review us on Google