IBBI  issued a Gazette notification dated 16th Sept 2022 for amending the following 3 regulations:-
1. IBBI (Insolvency Resolution Process for Corporate Persons) (Fourth Amendment) Regulations, 2022.
2. IBBI (Liquidation Process) (Second Amendment) Regulations, 2022
3. IBBI (Voluntary Liquidation Process) (Second Amendment) Regulations, 2022
All the amendments are applicable with immediate effect & brief analysis of these amendments is as follows:-
1. IBBI (Insolvency Resolution Process for Corporate Persons) (Fourth Amendment) Regulations, 2022
1.1 New Regulation 4C introduced requiring having a common E-Mail Address for the whole CIR Process
1.2 New Regulation 6A introduced requiring mandatory communication of CIR process to all Creditors as per Books of accounts along with Public Notice
1.3 New Explanation after Regulation 18(2) added to allow holding of COC meeting till the passing of Resolution Plan
1.4 Regulation 35A (3) is also amended & new Regulation 35 (3A) is also introduced which requires informing PRA about the PUEF application
1.5 Regulation 36 (Information Memorandum) amended as follows: –
1.5.1 Timeline for submission of IM increased to the 95th day from the existing 54th day from the Insolvency Commencement date.
1.5.2 Additional disclosures like key selling propositions details of its operations, financial statements, etc also now is required to be disclosed.
1.5.3 Sub-clause clause (a) amended to provide additional disclosure of Contingent Liabilities also.
1.5.4 Explanation to Sub-clause (a) also amended to provide disclosure of geographical coordination of fixed assets also.
1.6 New Sub-clause (j) introduced to provide a snapshot of business performance, key contacts, key investments, highlights, and other factors which bring out the value as a going concern over and above the assets of the corporate debtor such as brought forward losses in the income tax returns, input credit of GST, key employees, key customers, supply chain linkages, utility connections, and other pre-existing facilities
1.7 New Sub-clause (k) introduced to provide details of business evolution, industry overview, and key growth drivers in case of a corporate debtor having a book value of total assets exceeding one hundred crores rupees as per the last available financial statements.
1.8 Regulation 36 A (Invitation for EOI in Form G) timeline reduced to 60th day from existing 75th day.
1.9 New Sub Clause 6A introduced after regulation 36B (Request for extension of timeline for resolution plans) to provide that RP if not received Resolution Plan then with the approval of COC may issue a request for resolution plan for the sale of one or more of assets of the corporate debtor.
1.10 New regulation 36C was introduced to provide for a strategy for the marketing of assets of the corporate debtor having an asset base exceeding one hundred crore rupees.
1.11 New Sub Clause (m) introduced after regulation 37 (Resolution Plan requiring measures for maximization of value of assets) to provide the manner of sale of assets to one or more successful RA along with dealing with remaining assets.
1.12 New regulation 39BA introduced to provide that COC shall examine to explore compromise or arrangement & accordingly inform to AA while filing Liquidation application under section 33 and also keep exploring during the pendency of such application with AA
1.13 Regulation 40A (Timeline Regulation) also amended to incorporate all above-stated changes
1.14 New Regulation 40D (Sub Regulation (1) & (2)) introduced whereas COC has to consider non-operational status for the preceding three years, goods produced or service offered or technology employed being obsolete, absence of any assets, lack of any intangible assets or factors which bring value as a going concern over and above the physical assets like brand value, intellectual property, accumulated losses, depreciation, investments that are yet to mature at the time for decision for liquidation of CD & consequently inform to AA also. Such consideration may be recorded and RP must submit it to AA.
1.15 Form G contents reduced substantially & also required to provide Industry type & its locations in the heading.
2. IBBI (Liquidation Process) (Second Amendment) Regulations, 2022
2.1 New Proviso to reg 2B (1) added to provide a reduction in timeline for filling Compromise or arrangement proposal to 30 days from the existing 90 days.
2.2 New Regulation 4 (1A) introduced to allow Consultation Committee to fix Liquidator fees in its first meeting where no fees are fixed sub-regulation 1.
2.3 New Regulation 12 (2) (c) introduced that a claim submitted during CIRP be considered if no claim is submitted during Liquidation + its collation within 30 days (Proviso to Reg 30)
2.4 New Regulation 12A introduced for the operation of Process E-Mail ID as handed over to him by RP
2.5 Regulation 15(1) amended to provide for submission of Progress Report to AA in prescribed format
2.6 Proviso to Regulation 15(4) omitted which requires non accessibility of any material change reporting in the realisation of any property to any person
2.7 Regulation 31 A (1) substituted to provide constitution of Consultation Committee & power of Consultation Committee to advise for
2.7.1 Remuneration of professionals
2.7.2 Sale etc u/r 32
2.7.3 Liquidator Fees
2.7.4 Valuation u/r 35(2)
2.7.5 Manner of persuasion of PUEF transaction & its distribution after Liquidation.
2.8 New Regulation 35(IA) introduced to provide COC to act as Consultation Committee with same voting rights till the formation of Consultation Committee
2.9 Regulation 35(2) amended to provide that the Voting share of the Consultation Committee shall be in proportion to the admitted claim.
2.9.1 Further Unrelinquished\Related Party Creditor shall not be a member of the Consultation Committee.
2.9.2 Liquidator may also facilitate the creation of Stakeholders for each class like Financial Creditor in a class, Workman, etc
2.10 New Regulation 35(4A) was introduced to provide that the representative under regulation (3) or (4) shall vote in proportion to the voting share of the stakeholders they represent.
2.11 Regulation 35(6) is amended to require a convening first meeting of the Consultation Committee within 7 days of the Liquidation Commencement Date along with a mandatory conveying meeting on the request of 30% voting right holder.
2.12 Regulation 35(9) amended to provide that present and voting words are substituted with words Voting
2.13 Regulation 35(10) amended to provide that records are required to be submitted to IBBI/AA now within 5 days instead in the next progress report
2.14 Regulation 35(11) inserted whereas Consultation Committee can now replace Liquidator with 66% voting rights subject to suitably remunerating to outgoing liquidator & he will work till his replacement.
2.15 Regulation 32A(4) has been substituted to provide for a change in the sale as a going concern.
2.16 New Regulation 32B introduced specifying the conduct of the meeting of the Consultation Committee
2.17 Regulation 34(1) is amended whereas for the Going concern sale timeline for preparation of the Asset Memorandum is reduced to 30 days from the existing 75 days.
2.18 The Liquidator shall also share Asset Memorandum with IBBI & Consultation Committee after receiving a confidentiality undertaking from them.
2.19 Proviso to Regulation 44 (1) omitted which provides an additional timeline of 90 days in addition to 1 year in case of sale is made as a going concern
2.20 New Regulation 44A introduced requiring Liquidator to provide in the closure application of distribution of proceeds of PUEF transactions as per the advice of Consultation Committee
2.21 New Regulation 44B introduced requiring Liquidator to preserve many additional 17 types of records like his appointment order, admission order, public Notice, etc.
2.21.1 Further these shall be preserved in Electronic Form for 8 years & physical form for 3 years.
2.21.2 However, when sold as a Going concern, all general records be handed over to the successful buyer.
2.21.3 All records be preserved at a secure place & produced as required under the Code.
2.22 Table of timeline u/r 47 has also been amended to incorporate all the above changes
2.23 Schedule 1 has also been amended to incorporate changes wrt change in the timeline as stated above for sale as a Going Concern.
2.24 Further restrictions have been imposed on Liquidator to sell through only e-platforms as empanelled by IBBI from the future date to be notified later on.
2.25 New Form AA being written Consent to act as Liquidator is introduced.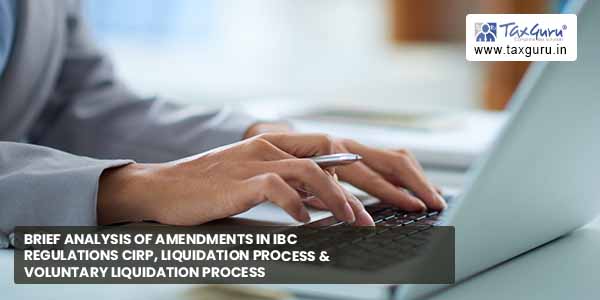 3. IBBI (Voluntary Liquidation Process) (Second Amendment) Regulations, 2022
3.1 New Regulation 3(5) introduced requiring CD to add in the declaration under sub-regulation (1)(a) or under section 59(3)(a) that he has made provision for the preservation of its records after dissolution.
3.2 The scope of regulation 41 has been enlarged to provide preservation of all records which are required to give a complete account of the voluntary liquidation process along with following records for 8 years in electronic form & 3 years in physical form: –
3.2.1 His appointment as liquidator, including the terms of appointment;
3.2.2 Handing over / taking over of the assignment;
3.2.3 Initiation of voluntary liquidation process;
3.2.4 Public announcement;
3.2.5 Claims, verification of claims, and list of stakeholders;
3.2.6 Engagement of professionals, registered valuers, etc. including work done, reports, etc., submitted by them;
3.2.7 All filings with the Adjudicating Authority, Appellate Authority, High Courts, Supreme Court, whichever applicable, and their orders;
3.2.8 Statutory filings with Board and insolvency professional agencies;
3.2.9 Correspondence during the voluntary liquidation process;
3.2.10 Cost of voluntary liquidation process;
3.2.11 All reports, registers, documents such as a preliminary report, annual status report, final report prior to dissolution, various registers and books, etc. are mentioned in Regulations 8 and 10 of principal regulations; and
3.2.12 Any other records, which is required to give a complete account of the process.
3.3 Further as per regulation 41(4), In case of replacement of liquidator, the outgoing liquidator shall hand over the records under sub-regulation (1) and (2) to the new liquidator.
3.4 Further as per regulation 41(5), liquidator shall preserve the records at a secure place and shall be obliged to produce records as may be required under the Code and the principal regulations.
3.5 Further as per regulation 41(6), liquidator shall, along with the application filed under sub-section (7) of section 59 to the Adjudicating Authority, provide the details and manner of preservation of records under sub-regulation (1) and (2).
******
Manoj Kumar Anand CA & IP- Address: – 2 Community Center, 3rd Floor, Naraina, New Delhi-110028- E-Mail:- anandmanoja@gmail.com – Phone no: – 9811280787.
Manoj Kumar Anand is Delhi based Chartered Accountant and Insolvency Professional and involved in around 27 assignments as IRP/RP/Liquidator/Process Advisor under IBC 2016. He is also associated with Decode Insolvency an IPE and has co-authored a book on Valuation and is founder President of `AIIPA' an association of Insolvency Professional.