A systematic approach to divide your GST & Income Tax work according to Time available & its Gravity.
Some are good at time management and some are not. CA practice has become all about time management. Specially those who are into traditional practice of GST and income tax. April to September is chaotic.. Income tax audit and ROC filing is a major annual filing concern while there are some monthly and quarterly compliance also within these 6 months time span. it's really Messy because all due dates are clashing every month. We file GSTR1 , GSTR3B respectively on 11th and 20th. Then at every quarter ending , we have GSTR 4 on 18th, GSTR 1 for the quarterly returns, TDS returns, ITC 4 etc.
I have prepared a 4 month calendar which may help you to allot time in each task. 4 Months i.e JUNE TO SEPTEMBER.
Below is 4 month time table for CA practicing in GST and income Tax mainly I have divided the work based on the due dates and based on time to be given to the work which help you earn more.
JUNE TO SEPTEMBER MONTHS TIME & WORK SCHEDULE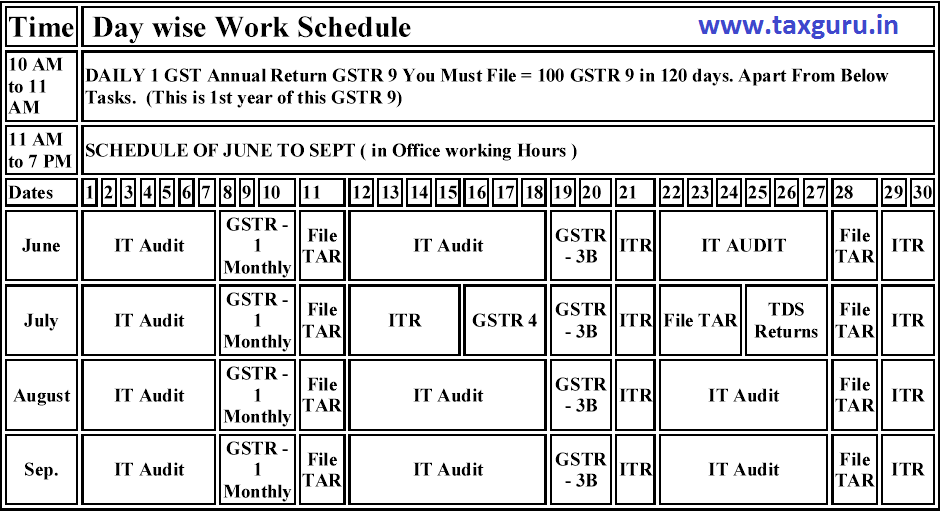 Days Allotted To Following Tasks
Upload Tax Audit Reports
8
Audits
Audited ITR
8
Daily 7-8 ITR Of Audited Case (For 60 Audits )
IT Audit
67
Daily 1 Audit ( Assume 60 Audits Daily 7-8 Upload (FOR 60)
GSTR 1
15
GSTR 4
3
GSTR 3B
8
 ITR ( Non-Audited ITR )
8
TDS Return
3
120
DAYS (FROM JUNE TO SEPTEMBER)
ASSUMPTIONs –
1. I assume this time table without CONSIDERING GSTR 9C.
2. I assume 60 AUDITED IT CASE + 100 GST FILES.
3. I consider April and May less busy as income tax work don't start in April month because there are no schema available for IT returns.
4. I also assume GSTR 9 date might extend to 30-9 as its first year . Otherwise in June . You should first complete all GSTR 9.