How to File GSTR – 3B if Sales Return exceed Outward Supply?
A very Good day to all the readers. We have successfully completed 3 quarters of GST compliance and return filing (July'17 – Mar'18) and we must have experienced some or the other practical problems while doing so.
One of the practical issues among them is How to fill GSTR 3-B Form if the Sales return (Credit Notes issued) for any month is more than the actual Outward Supply for that month? Also what if, the ITC claimed for that month is less than the ITC to be reversed (on account of Purchase Returns i.e Debit Notes issued being more than actual Purchases (eligible for ITC) for that month?  These issues are most likely to occur in the month of March (i.e. year end) or April (i.e. year beginning).
While the GST Department and CBEC has not yet come out with clarification to these problems since the GSTR 3-B Form does not accept figures in the negative. Also the accounting software or ERPs like Tally, Busy, etc show the GSTR 3-B report in the normal general format i.e. Sales – Sales Return and ITC availed – ITC reversed. A screenshot of the same is as below to grasp a clear understanding of the issue. (see attachment – Tally data GSTR 3-B view)
To get the compliances and returns all right and on time, we first need to understand the purpose of Filing that GST Return. GSTR 3-B is a summary form for making adjustments and payments of GST liability and Input Tax Credit for the month. So we need to be extra – cautious in filling the GSTR 3-B Form so that the required Output Liability and the available Input Tax Credit is correctly reflected in the Electronic Credit Ledger.
This brings us to the doorway for solving the above referred problem (in italics & underlined above). While we understand that Sales is an outward supply and Sales Return is an inward supply. Similarly, Purchases are inward supply while Purchase Return is an outward supply. So to get the things right and GSTR 3-B correctly filled and filed, we will have to use this concept of inward and outward supplies.
We shall process the above sample data in the manner as per this table:
1. Outward Supplies
i. Sales – resulting in increase in Output Liability
ii. Purchase Return – resulting in increase in Output Liability (i.e. reduction in Input Tax Credit availed earlier)
2. Input Tax Credit
i. Purchases – resulting in increase in ITC
ii. Sales Return – resulting in increase in ITC (i.e. reduction in Output Liability)
The above screenshot of Tally data of GSTR 3-B can be put as per the above format, as shown below (in the attachment)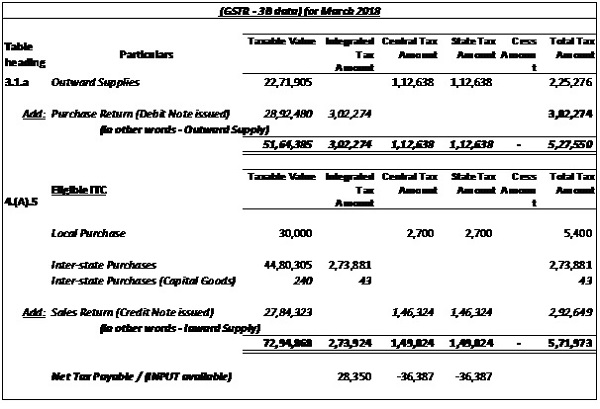 While this may seem out of the way, but the purpose of GSTR 3-B is correctly and aptly served while making no errors till the time CBEC or GST Department comes out with proper clarification or guidance note on the above issue. This shall result in overall correct treatment of GST Output Liability and Input Tax Credit availed. Also, there would be no deferment i.e. postponing of Credit and Debit Notes just to avoid negative figures.
After all, the experts have to make a way to deal with such business scenarios even if no guideline from the Government is available. That's why they are called "Experts" and given the respect they deserve.