A. RBI RETAIL DIRECT (RD) SCHEME:
Earlier, it was very difficult for a retail investor to invest in Government Securities (G-Sec)/Treasury Bills (T-Bills)/Sovereign Gold Bond (SGB)/State Development Loan (SDL) due to lack of information about trading/dealings in these instruments, functioning of G-Sec market and more on. To counter this and to enhance more retail participation in the G-Sec market, RBI announced the 'RBI Retail Direct' Scheme (RD) in February 2021 which was launched by the Hon'ble Prime Minister of India on 12th November, 2021. Retail Direct (RD) Scheme is a one point solution to facilitate investment in G-Sec by individual investors along with facility to open Gilt Security Account with RBI.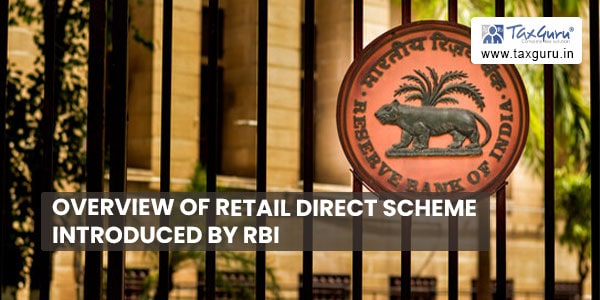 A. Retail Direct Investors (RDI) can register, open and maintain a Retail Direct Gild (RDG) Account with RBI subject to following laid down criteria-
1. Rupee Savings bank account is maintained in India;
2. Valid PAN is issued by the Income Tax Department;
3. Officially Valid Document (OVD) for KYC purpose. OVD includes Passport, Driving Licence, Election Card and other documents as may be prescribed from time to time;
4. Valid e-Mail ID and Mobile Number.
B. NRI retail investors who are eligible to invest in G-Sec under FEMA, 1999.
LIKE SAVINGS ACCOUNT, RDG ACCOUNT CAN BE OPENED SINGLY OR JOINTLY WITH ANY OTHER RETAIL INVESTOR.
Eligible RDI has to register and open his/her RDG Account online by filling application form using the RD Scheme. Upon filling up the application form and upon verification of information by RBI, RDG account gets registered and Retail Investor receives RDG Account Number, Login ID and Password on e-Mail/SMS. RDG Account is available for primary market participation as well as secondary market transaction on NDS – OM (Negotiated Dealing System – Online Matching).
Upon successful registration under the RD Scheme, investor is eligible for following services-
1. ACCOUNT STATEMENT: Investor is able to obtain the statement of transaction history and balance position of securities holding in his/her RDG Account. Further, RBI sends all the transaction alerts on e-Mail/SMS as well.
2. NOMINATION FACILITY: There can be a maximum of two nominees. In the event of death of the registered investor, the securities available in the RDG Account can be transmitted to the RDG Account or any other Government securities account of the nominee on submission of death certificate and transmission form.
3. PLEDGE/LIEN: Securities held in the RDG Account will be available for pledge/lien as collateral against loan from Bank/FI.
4. GIFT OF SECURITIES: Investors will be able to gift their G-Sec to other retail investors via online mode.
5. NO FEES: RBI does not charge any fee for opening and registering the RDG Account. Further, no fee is applicable for submitting bids in the primary auction.
6. CONVERSION TO/FROM DEMAT: The Retail Direct Portal will facilitate Retail Direct Investors to convert their holdings in the RDG Account to demat securities and vice versa. The conversion request needs to be raised by the investor by providing all the information of the beneficiary account.
1. Retail investors will have the facility to open and maintain the 'Retail Direct Gilt Account' (RDG Account) with RBI. No paperwork is involved.
2. The investor can place non-competitive bids in primary issuance of all Central Government securities (including T-Bills and Sovereign Gold Bonds) as well as securities issued by various State Governments.
3. Individual can also access Secondary market through "NDS OM" – RBI's trading system.
4. Investor will automatically receive any interest paid/maturity proceeds into his linked bank account on due dates.
5. Protection against default risk as Government never defaults in the repayment.
B. PRIMARY ISSUANCE NON-COMPETITIVE BIDDING SCHEME:
Primary market is a source of new securities. Primary issuances are first time issuances or re-issuances of G-Sec by the Central Government or various State Governments. For e.g. T-Bill/State Development Loan (SDL)/Cash Management Bill (CMB)/Dated G-Sec/Sovereign Gold Bond (SGB) etc.
Non-competitive bidding means the bidder would be able to participate in the auctions of Dated G-Sec without having to quote the yield or price in the bid. Thus, the investor will not have to worry about whether his bid will be on or off-the-mark.As long as he bids in accordance with the scheme, he will be allotted securities fully or partially.
PARTICIPANTS ELIGIBLE TO INVEST IN NON-COMPETITIVE BIDDING SCHEME:
Participation in the Primary Issuance Non-Competitive Bidding Scheme is open to all the eligible retail investors registered under the RDI Scheme. Apart from the eligible investors, scheme is applicable to certain small investors who-
1. Do not have Current Account or Subsidiary General Ledger Account with RBI;
2. Do not require more that Rs. 2 Crore of securities per auction.
BENEFITS OF NON-COMPETITVE BIDDING SCHEME:
1. The non-competitive bidding facility will encourage wider participation and retail holding of G-Sec;
2. It will enable individuals, firms and other mid segment investors who do not have the expertise to bid competitively in the auction;
3. Such investors will have fair chance of assured allotments at the rate which emerges in the auction.
Investor can bid in the auction with minimum amount of Rs. 10,000/- and multiples thereof.
C. NEGOTIATED DEALING SYSTEM – ORDER MATCHING (NDS – OM):
NDS – OM is RBI's screen based, anonymous electronic order matching system for trading in G-Sec in the secondary market. This is an order driven electronic system, where the participants can trade anonymously by placing their orders on the system or accepting the orders already placed by other participants. Anonymity ensures a level playing field for various categories of participants. Direct access to the NDS – OM system is currently available only to select Financial Institutions like Commercial Banks, Primary Dealers, HNI, Mutual Funds, Insurance Companies, FPI etc. However, due to Retail Direct Scheme, now a retail investor can open a gilt account with the RBI and can place a direct bid on NDS – OM as well as trade in the secondary market.
1. It covers all G-Sec, T-Bills, Dated G-Sec etc.;
2. Pre and post trade anonymityensures a level playing field for various categories of participants;
3. Real time information dissemination;
4. T + 1 trading settlement;
5. Operational risk control facility;
6. Separate order book for Standard and Odd Lot market.
1. Efficient Price Discovery-narrow bid/ask spreads;
2. Transparency;
3. Anonymity;
4. Level playing field;
5. Lower transaction time;
6. Reduced search time &cost;
7. Better regulatory surveillance & oversight.
****
Disclaimer:- The content of this article is intended to provide a general guide to the subject matter. Specialist advice should be sought about your specific circumstances. The entire contents of this document have been prepared on the basis of relevant provisions and rules and as per the information existing at the time of the preparation. Although care has been taken to ensure the accuracy, completeness and reliability of the information provided. I assume no responsibility therefore. Users of this information are expected to refer to the relevant existing provisions of applicable Laws. The user of the information agrees that the information is not a professional advice and is subject to change without notice. I assume no responsibility for the consequences of use of such information.