As we all are aware of COVID-19, everyone is in self-quarantine and taking necessary measures to prevent COVID-19. Meanwhile, Government is in its form to proceed with the biggest reform in the banking sector i.e Merger of 10 Public Sector Banks into 4 big banks. Now-a-days, people are listening frequently the news about banking sector that banks are going to merge and thinking about their situation in respect of bank accounts held by them….
Now, all the personshad a question in mind regarding this merger of banks??
The government announced a series of mergers involving 10 state-owned banks, as it looks to strengthen a sector struggling under a mountain of debt and ensure stronger balance sheets to boost lending and revive economic growth.
Under the merger plan announced by finance minister Nirmala Sitharamanafter meeting PSU bank chiefs, 10 PSU banks will be amalgamated into four entities. The mergers, which cut to 12 the total number of state-owned banks, from 27 in 2017, are the first since Prime Minister Narendra Modi's government wonre election in May. His government has vowed to clean up the banking sector and reduce the number of state-run banks.
"Consolidated PSBs for strong national presence and global reach is one of the objectives with which we went about this plan. So 82 percent of all PSB business and 56 percent of all commercial bank business will be with them," Sitharaman reasoned at a press meet.
Finally, finance Minister NirmalaSitharaman announced a merger of banks w.e.f  01st Apr,2020.Here, the important point to note is that Government of India has announced a capital infusion woth more than Rs.55,000 crore into the public sector banks. Following table shows the amount distributed among various PSB's
| | |
| --- | --- |
| Public Sector Banks | Capital Infusion (Amount in crore) |
| PNB | 16,000 |
| Union Bank of India | 11,700 |
| Bank of Baroda | 7,000 |
| Indian bank | 2,500 |
| Indian Overseas bank | 3,800 |
| Central Bank of India | 3,300 |
| UCO bank | 2,100 |
| United Bank of India | 1,600 |
| Punjab and Sind Bank | 750 |
| Canara Bank | 6,500 |
Merger List of PSU Banks
| | |
| --- | --- |
| Acquirer Banks | Banks to be merged |
| Punjab National Bank | Oriental Bank of Commerce & United Bank |
| Canara Bank | Syndicate Bank |
| Union Bank of India | Andhra Bank & Corporation Bank |
| Indian Bank | Allahabad Bank |
Chart showing Value of Total Business made by each merger
TOTAL BUSINESS IS OF RS.17,94,526/- CRORE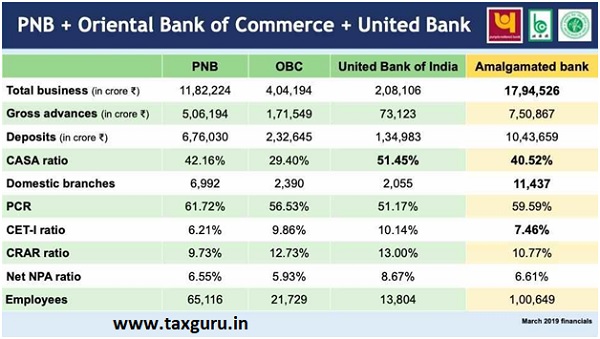 TOTAL BUSINESS IS OF RS.15,20,295/- CRORE
TOTAL BUSINESS IS OF RS.14,59,434/- CRORE
TOTAL BUSINESS IS OF RS.8,07,859/- CRORE
Impact of PSU Bank Mergers
The merger of PSU banks has its share of merits and demerits. The addition of staff and network is the effect that can be easily gauged from the impending merger move. What else can emerge due to the merger? Don't know? Take a look below.
Merits of Merger
A large capital base would help the acquirer banks to offer a large loan amount
Service delivery can get improved
Recapitalization need from the government to reduce
Customers will have a wide array of products like mutual funds and insurance to choose from, in additional to the traditional loans and deposits
Technological up gradation on the cards
Demerits of Merger
It would be tough to manage issues pertaining to human resource
Few large inter-linked banks can expose the broader economy to enhanced financial risks
The local identity of small banks won't be that prominent
Deemed Branches w.e.f 1st Apr,2020
a. Branches of Allahabad Bank to operate as branches of Indian Bank from April 1, 2020 vide press release 2019-2020/2136
b. Branches of Andhra Bank and Corporation Bank to operate as branches of Union Bank of India from April 1, 2020vide press release 2019-2020/2137
c. Branches of Oriental Bank of Commerce and United Bank of India to operate as branches of Punjab National Bank from April 1, 2020vide press release 2019-2020/2138
d. Branches of Syndicate Bank to operate as branches of Canara Bank from April 1, 2020vide press release 2019-2020/2139
In my view, consolidation of Public Sector Banks and thereby reducing no. of banks is the right and most appropriate step. So many banks were undercutting each other in the name of competition. It will definitely bring in better credit culture and reduce NPA. Congratulations to the Government for this revolutionary and bold step
Recent Press Release by RBI
Hope this article cleared some of your basic doubts with respect to merger of banks.
Stay Home & Stay Safe. Let's unite and fight against corona.