Government released New ITR filing portal on 7th June, 2021 for improving efficiency of IT Portal, best user interface and better user services. However, since the day of its launch, portal is facing many problems/errors like unable to File ITR on New Portal, unable to do EVC (E-verify) of ITR, non launching of schema of ITR Forms, facing error in registration of PAN/TAN, unable to opt for New Tax Slab Regime in ITR, non auto population of 26AS data in ITR,  Filing of Form 15CA & CB not enabled, getting error in registration of Digital Signature on IT Portal, inactivation of PAN, unable to download ITR filed for current & past assessment years, unable to submit ITR in response to notice u/s.148, & so on. Further portal was calculating late Filing Fees inspite of ITR due date extension till 30/09/2021. In this article, I have tried to cover up most of the issues commonly being faced & there suggested resolutions.
1. Whether filing of ITR for AY 2021-22 started on New Income Tax Portal?
Yes, ITR filing has started on New IT Portal. Form ITR 1 & ITR 4 can be filed with both offline utility & online mode. Few of Taxpayer might still face error in certain menus, but generally it is being filed now.
2. Whether all the ITR e-Forms i.e. ITR 1 to ITR 7 have been released?
As per latest updated on Income Tax Portal, Common Offline Utility has been released on 02/08/2021 for ITR 1 to ITR 4, however for ITR 5 to ITR 7, the same is yet to be released.
3. Unable to download ITR-V & ITR Forms for past assessment years?
Initially option to download ITR-V & ITR Form was not working, It has started from last couple of days, however if you are still facing issue, one can try with Fast Speed Internet Connection or download in early morning time (i.e. before 9 AM)
4. How to opt for New Tax Slab Regime for Filing ITR?
In case you are filing ITR 3 or ITR 4, you need to e-file Form 10IE to opt for New Tax Slab regime. After filing Form 10IE, the same will be auto populated in ITR Form. Option to opt new regime is given in ITR 1 & ITR 2 itself.
5. How to file form 10IE on New IT Portal?
In case you want to opt for New Regime, before filing ITR 3 or ITR 4, you need to file Form 10IE by login to New Portal. Filing of Form 10IE has been enabled on Portal.
> Go to e-file
> Income Tax Forms
> File Income Tax Forms
> Persons not dependent on any source of Income (i.e. Source of Income not relevant for this form)
> Determination of tax in certain special cases (Form 10IE)
6. How to download Excel &/or Java Offline Utility for Filing ITR of AY 2021-2022?
W.e.f. AY 2021-2022, concept of releasing separate Excel & Java Offline utility for each ITR Form separately has been discontinued. Now improved common JSON Utility has released. As on now, Common Offline Utility for filing ITR 1 to ITR 4 has been released, which can be downloaded as under:
Downloads> Income Tax Returns>AY 2021-22>Common Offline Utility (ITR 1 to ITR 4)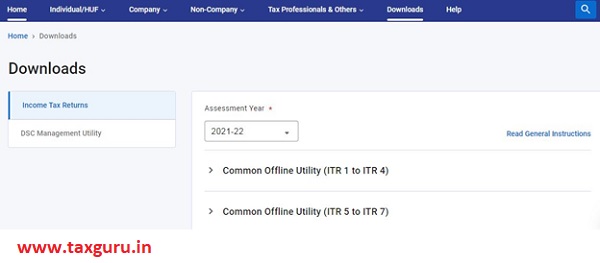 7. Unable to e-verify ITR post filing of ITR?
Many taxpayers are unable to e-verify after filing of ITR as portal do not respond when you click on e-verify option being displayed against ITR V acknowledgement of AY 2021-22. You can try with following trick-
1. Log out of Portal (i.e. Don't use ID & Password to login)
2. Go to Our Services
3. Click on e-Verify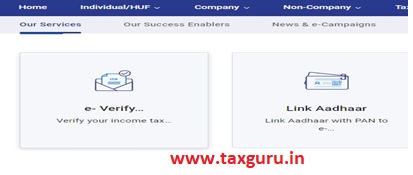 4. Fill the details as per menu displayed as under-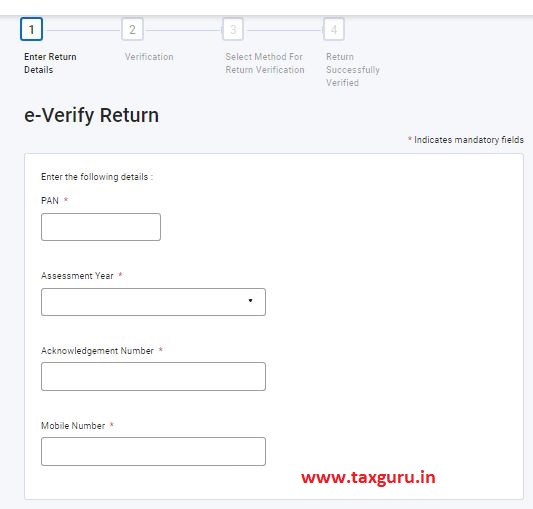 5. ITR will be successfully verified Post OTP.
8.Best way to e-Verify the ITR?
In case you are filing online ITR through Official Website of Income Tax, then before submission of ITR, portal ask you to choose for one of the following options-
1. E-Verify Now
2. E-Verify Later
3. Speed post to Bangalore
Best way to choose is option 1 i.e. E-Verify now & do Aadhar OTP. This option is working successfully.
9. How to create signature file for registering DSC on new Income Tax Portal?
Concept of creating signature file for registering Digital Signature Certificate (DSC) has been discontinued on New Portal. Now you can directly register DSC by installing new DSC Management Utility i.e. emBridge from IT Portal.

10. How to register DSC of Partner of Firm or Director of Company for filing ITR/ITR Form of Firm /Company?
Partner / Director have to register DSC in his/her own Individual Profile with their own personal credentials. In case they are authorised signatory in Firm/Company's IT Profile, then DSC will be automatically working in Firm/Company's login
11. Form 26AS details are not automatically populated in New IT Portal?
While filing Online ITR form, Few of Taxpayers are facing error due to non-auto population of certain details of Form 26AS e.g. TDS/TCS/Advance Tax/Self Assessment Tax Challan details. In this case, you can manually download form 26AS and enter the details of TDS/TCS/Tax Deposit in ITR Form.
12. How to file ITR in response to notice u/s.148 for AY 2017-2018?
Few taxpayers who have recently received notice u/s.148 for AY 2017-2018, were unable to file ITR in response to notice. Option to file ITR has been enabled now in e-Proceeding Menu> File Response.
13. I am not registered on New as well as Old Income Tax Portal. Can I do it now?
In case you are already registered on old e-filing portal, then you need not to re-register as old assessees have been automatically migrated to new portal with same credentials. However, First time Register on Tax Portal has been enabled on New Portal and working smoothly now.
14. What are the different way out to File ITR on new Portal?
You can choose any of the following way to file the ITR-
1. Directly file Online ITR on New Tax Portal https://www.incometax.gov.in/
2. File ITR through Common Offline Utility available on New Income Tax Portal
3. You can also file ITR through Third Party Vendor software /websites, which let you file the ITR via their portal/software or generating JSON file through them & uploading it on new official website of Income Tax.
15. New Portal computing late fees for delayed filing of ITR of AY 2021-22?
Initially New portal was computing late fees on 01/08/2021 for filing ITR beyond 31st July, inspite of the fact that due date has been extended. However, the issue has been resolved now.
16. I have filed & e-verified my ITR but not received the refund till date. What can I do now?
Kindly check, whether Bank account selected by you for getting IT Refund has been pre-validated & EVC enabled on New IT portal. It ensures faster processing & credit of IT refund to your bank account.
17. Response to grievance on New Income Tax Portal is being displayed as "NA"?
Please check your registered email id as portal is not correctly displaying the response to the grievance but correct communication is being delivered by email response.
18. My Income Tax Profile is not updated upto 100% Level, but don't know what's incomplete. Can I file ITR without completing Profile to 100%?
Completing Income Tax Website Profile to 100% level helps in pre-filing most of the basic details while filing ITR. In case you are getting error in updation of Profile, you can choose to fill the details at the time of filing of ITR itself.
19. There are many other glitches in the new portal. What can be done?
Raise grievance at E-filing Portal with detailed facts and screenshot of the error.
*****
Author can be reached at casagargambhir@gmail.com for any queries, issues & recommendations relating to article. Any feedback for improvement would be really appreciated.
Disclaimer: The contents of this article are for information purposes only and does not constitute an advice or a legal opinion and are personal views of the author. It is based upon relevant law and/or facts available at that point of time and prepared with due accuracy & reliability. Readers are requested to check and refer relevant provisions of statute, latest judicial pronouncements, circulars, clarifications etc before acting on the basis of the above write up.  The possibility of other views on the subject matter cannot be ruled out. By the use of the said information, you agree that Author / TaxGuru is not responsible or liable in any manner for the authenticity, accuracy, completeness, errors or any kind of omissions in this piece of information for any action taken thereof. This is not any kind of advertisement or solicitation of work by a professional.