DIRECT TAXES PROFESSIONALS' ASSOCIATION
Income Tax Building, 3, Govt. Place West, Ground Floor, Kolkata 700001
Ph – 033-22420638
URGENT
Ref. No. DTPA/Rep/21-22/006 
30th December 2021  
To,
Hon'ble Smt. Nirmala Sitharaman Ji
Union Finance Minister,
Govt. of India
NEW DELHI – 110001
Subject:  Memorandum for Extension of Due Dates till 28TH Feb.  2022 for filing of ITRs.
We have been constantly putting forward the grievances of our members in respect of the New Income Tax Portal since its launch and even though the Portal is functional and some of the issues have been sorted out but still the Portal is having multiple glitches which has resulted difficulties for many persons and taxpayers are unable to file their Income Tax Returns. It is also pertinent to note that not only the ITR of Companies,  Firms,  Business  Income,  TAR  etc. are  facing  issues  but  also returns of Individuals, HUF and Executor to the Estate are not being able to be filed due to some reason or the other which is also consuming considerable time and effort of the tax professionals.
Therefore we humbly  pray an extension up to 28th February, 2022 requested to be granted. Needless to mention the pandemic is not yet over which has also played a crucial role in non-functioning of the offices of professionals and taxpayers.  The number of staff available is much lesser due to Corona restrictions including non- functioning of Local trains.
On behalf of our Association, we request your kind intervention for the extension of the due dates of filing of returns at least till 28th February, 2022 and also your help to early resolution of pending problems faced by the Taxpayers in the New Income Tax Portal.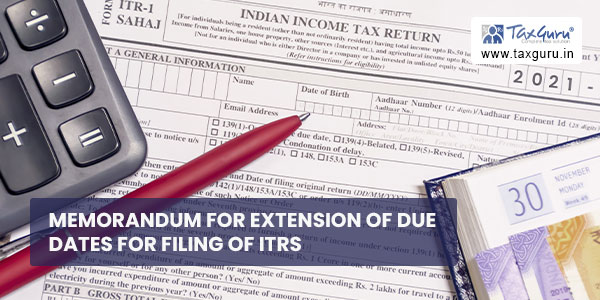 We look forward to an early consideration of our above prayers.
With humble regards,
CC to : Chairman, CBDT, North Block, New Delhi 110001
Download Memorandum for Extension of Due Dates till 28TH Feb.  2022 for filing of ITRs