01st June 2021 was the day of the launch of the income tax portal 2.0 with a clear 10 days intimation in advance that the income tax services will not be available from 01st June till 07th June 2021 and any dates, timelines falling between 01st June to 10th June 2021 would be extended/ deemed extended.
Nearly 1.5 months after its launch and two weeks after the finance minister review on 22nd June 2021 and its functioning technical glitches continue to mar the functioning of the new income tax portal as certain key utilities like e-proceedings and digital signature certificate are not yet functional.
Also Read: Is the Common Income Tax Portal Becoming Uncommon- Part II
13 common problems recognized by the author, as per his view point which are creating lot of unrest and wasting valuable time and resources are listed below:
1. Logging problem.
The erstwhile Income tax e filing website used to be a single login portal; whereas 2.0 takes TWO glimpses or screen to log in. This is similar to the GSTN portal which also gives feeling of two glimpses on every new click before proceeding further.
On count of time, it is taking approximately 15 seconds to login to the assessee's portal account in this bullet train world.
2. Income tax return filing issues:
CAs The Partners in nation development discuss on daily basis whether the income tax return filing has been carried out smoothly by whom- implies that the return filing issues need to be sorted out immediately since we are sitting near 15th July. Tds updations would happen in Form 26AS by 31st July 2021 and the filing process would start in August and 60 calendar days are left minus the weekly and festival and misc holidays wherein around 5 crores ITRs would have to be filed not considering 31st October and 30th November ITRs.
3. DSC registration issues:
Digital Signature Certificates (DSC) registration has been the most talked area which has consistently disturbed in June 2021 and has started seeing the light of the day slowly and steadily. Had the Dsc alignment from portal 1.0 to 2.0 been smoothly planned, this strenuous exercise would have saved lots of time and energies of the professionals and other stakeholders. If the number of DCSs data registered again on portal 2.0 can be figured out and 15 minutes is considered the average time per Dsc registration, the time involved across India can be figured out.
4. E verification of the ITRs:
The ITRs are not getting e- verified and again has become a topic for discussion since OTPs are not received on timely basis and sometimes are not being received.
5. Filing Of IT Appeals:
The appeal form is not getting uploaded for want of OTPs and is raising the anxiety levels of the professionals and the petitioner assessee.
6. Form 15CA/CB:
Assessee has to align the form to the respective chartered accountant in My CA tab and has to choose Form 15CB. But the option to choose 15CB form is not enabled/ not displaying, thereby, the assessee cannot allocate 15CB to his respective CA. The date of filing Form 15CA/CB manually has been extended for the portal's inefficiency stake.
The CA has to first manually prepare 15CB and assessee has to manually prepare 15CA for giving to ADs and later on, when the process will be aligned on portal 2.0; this exercise has to be done again on the system leading to waste of time and resources.
Hope UDIN need to be generated again for the system procedure which has to be done later on.
7. Forms Pending for Acceptance:
Under worklist tab, the forms pending for acceptance shows SOME forms but on choosing, it does not proceed further. The screenshot displaying Loading is attached here with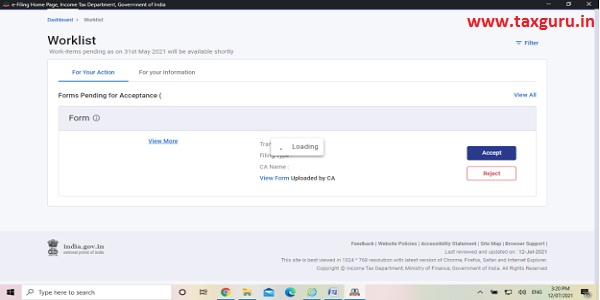 8. Mismatch in PAN data is shown where technically there is no mismatch:
After logging on, the profile is shown to be incomplete and maximum attainment level varies till 70 to 80% and the pan mismatch is shown in some cases where actually there is no mismatch.
9. Rectification of return option:
Rectification of return option is not there. For The previous outstanding demands , the option to rectify the return option is not yet available.
10. Form 10A/ 10B
Unable to file form 10A/ 10B on the portal and the option is not activated yet.
11. Form for Equalization Levy
Form 1 is not enabled as of now and when proceeding further, Access denied page is getting displayed. Form 1 date has been extended from 30th June to 31st July 2021 wasting 15 days of July 2021.
The screenshots are attached below.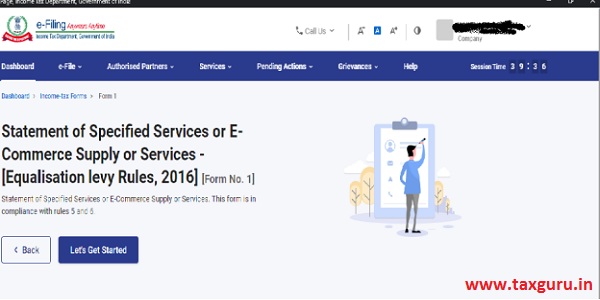 ___
12. E filed TDS returns acknowledgement numbers are not picked by Traces portal.
The acknowledgement of E filed TDS returns are not picked by Traces portal and are not displayed in the justification report generated from the TRACES portal. The screenshot is attached below.
As per the Traces portal, the data of the income tax 2.0 is not getting migrated to the Traces portal as above.
13. Quarter 1 Fin year 2021-22 Tds/ Tcs returns technical issue in filing.
While filing the tds/ tcs returns of Quarter 1, previous quarter Quarter 4 2020-21, acknowledgement number is entered on being asked. Now the new issue is that the portal 2.0 is not accepting the acknowledgement number of quarter 4 while filing quarter 1 returns.
The same had been telephonically acknowledged by the traces call center executive.
Its high time that these problems and other problems faced may be addressed soon so that the filing season and compliances can be adhered to smoothly.
While every care has been taken to ensure the accuracy/ authenticity of the above, the readers are advised to recheck/reconfirm the same from the original sources/ relevant departments. It is based upon relevant law and/or facts available at that point of time and prepared with due accuracy & reliability. By the use of the said information, you agree that the company is not responsible or liable in any manner for the authenticity, accuracy, completeness, errors or any kind of omissions in this piece of information for any action taken thereof. This is not any kind of advertisement or solicitation of work by a professional. The company shall in no way be responsible for any loss or damage suffered to any person on account of the same.