Introduction-
Bill that was pending for so many years will become live on 1st July 2017. An act which fulfills the dream of many legendary politician/ law makers as to "one nation one tax". GST works on the system of VAT (value added tax) i.e. each value addition will be liable for tax.
Some brief point for getting the feel of new regime–

Central Excise is levied on 'manufacture of goods', VAT / CST is levied on 'sale of goods' and service tax is charged on 'service provided or agreed to be provided' whereas under GST laws it is "Supply" which would be taxable event.
Various transaction looks to qualify for both sale as well as provision for services under existing tax structure however under GST law concept of composite supply and mixed supply is introduced.
Reverse charge is only applicable to services under existing law but under GST law supply of goods also subjected to reverse charge.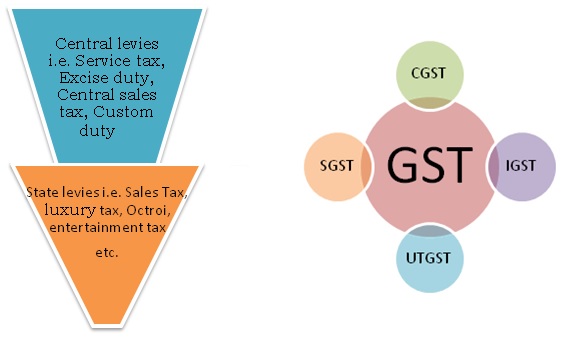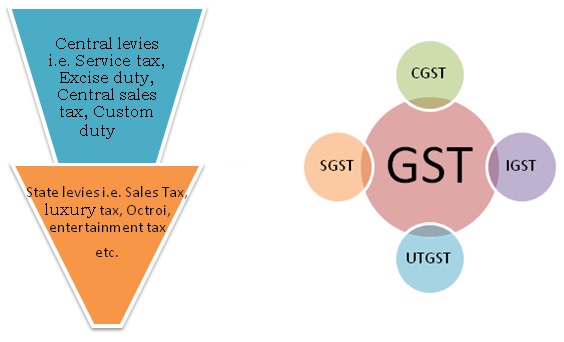 Under GST laws concept of partial reverse charge is no longer applicable. Example – under finance act Works contract services were subjected to partial reverse charge i.e. liability to pay service tax was shared by service provider and service receiver.
Input tax credit for purchases made at central level was not available to set off against other taxes but in GST laws Input tax credit has wider coverage and is eligible for set off.
Existing Central Excise act, Finance act, State Sales Tax etc will get replaced with GST law comprising of CSGT act, SGST act, IGST act and UTSGT act.
There is a provision for online assessment under the GST law which will consequently reduce the level of corruption in the department.
Basics-

Intra-state transaction – Such transaction will be subjected to CGST and SGST however Consumers need not to do anything they are simply liable to GST (CGST + SGST). Example- If a dealer supply goods/services in Rajasthan to a person in Rajasthan then such transaction will be subjected to CGST and SGST.
Inter-state transaction – Such transaction will be subjected to IGST only. For example if a dealer supplies from Rajasthan to dealer in Maharashtra then such transaction will be subjected to IGST.

GSTN – Goods and services tax network, a section 25 private limited company incorporated to function as a common pass-through portal for taxpayers like online registration, return filing, tax payment etc. (Link for reference http://www.gstn.org/)

Taxable event –  

In GST regime taxable event is a "supply" and tax is leviable whether or not the supply followed 'manufacture' of goods. All forms of supply of goods or services or both such as sale, transfer, barter, exchange, license, rental, lease or disposal made or agreed to be made for a consideration by a person in the course or furtherance of business

Registration-

Every supplier shall be liable to be registered under the Act in the State from which he makes a taxable supply of Goods or Services or both. Registration is required if his aggregate turnover in a financial year exceeds Rupees Twenty Lac.
It means that for each State, the supplier liable for registration will have to take a separate registration even though such supplier may be supplying goods or services or both from more than one State as a single person.
Persons who are required to pay tax under reverse charge are compulsorily required to get registered under GST law.
Every person who is liable to take a registration or wants to obtain voluntary Registration shall have a Permanent Account Number (PAN).
For persons having aggregate turnover up to 50 Lac in preceding financial year can opt for Composition scheme. Under the scheme person can't avail input tax credit and also cant transfer the credit to the buyer.
Note: Composition tax can't be collected from the customers.
Returns
Regular taxpayer is required to file monthly return on or before 20th of the month succeeding such calendar month in form GSTR-3. Due date for payment of tax on or before the due date of filling of return.
Person opting for Composition scheme are required to file quarterly return in form GSTR-4 within 18 days after the end of such quarter.
Other return forms are also prescribed for different category of persons like Input service distributor, non- resident tax payer etc.
Filling of return is mandatory for the person who is required to file the return even in case when there is no transaction effected in the tax period.