1. What dose Bonus Share means?
Bonus shares are additional shares given to the current shareholders without any additional cost, based upon the number of shares that a shareholder owns. These are company's accumulated earnings which are not given out in the form of dividends, but are converted into free shares.
2. What are the sources for Bonus Shares?
Company can issue fully paid-up bonus shares out of:
1. Free Reserves;
2. Security premium;
3. Capital Redemption Reserve Account.
However, Company can't issues Bonus Share out of revaluation reserve.
3. What are the conditions to issue Bonus Shares?
Company can issue Bonus Share if:
a. it's authorized by its articles;
b. it's recommended by Board and authorized in General Meeting as Ordinary Resolution;
c. it has not defaulted in respect of the payment of statutory dues of the employees, such as, contribution to provident fund, gratuity and bonus;
d. partly paid-up shares, if any outstanding on allotment date are made fully paid up;
e. if listed Company, it shall comply with SEBI Guidelines.
4. Can Bonus Issue once announced be withdraw?
The company which has once announced the decision of its Board recommending a bonus issue, shall not subsequently withdraw the same.
5. Can Bonus Shares be issued in lieu of dividend?
The Bonus Share shall not be issued in lieu of Dividend.
6. When shareholders become owner of Bonus Share?
Shareholders becomes owner of shares on date of resolution passing resolution not form the actual date of allotment.
7. Can a company issue preference share under bonus issue or it can issue only equity shares under bonus issue?
The Companies Act, 2013 not specified any specific type of shares under Bonus Issue, Therefore, a company can issue equity as well as preference share under bonus issue.
Procedure for Issue of Bonus Shares for Unlisted Company:
Procedure for Issue of Bonus Shares for Listed Company: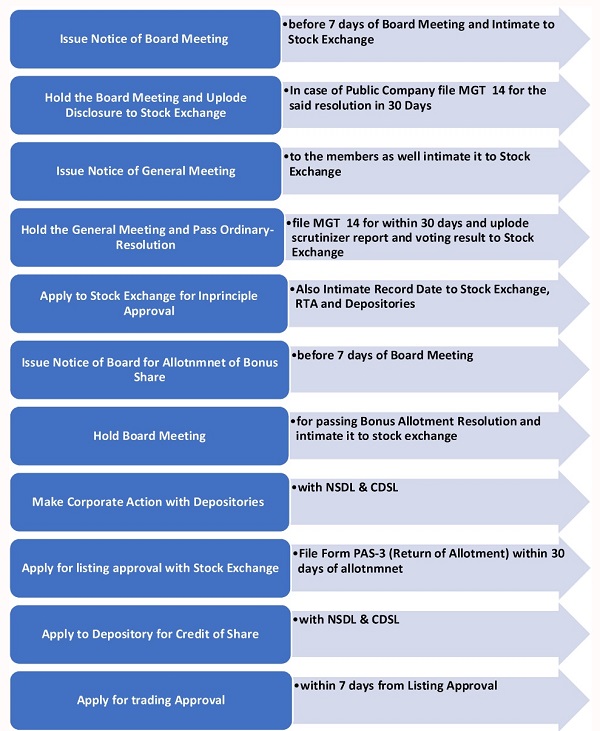 (Author – CS Nayan Pitroda proprietor of Pitroda Nayan & Co., Company Secretary in Practice can be contacted at +91 8866021210 and/ [email protected])